In this Hricane ukulele review, I'll be covering three of the company's top models: the UKS-3 tenor, UKS-2 concert, and UKS-1 soprano.
Hricane's ukes are some of the top-selling, best-rated ukuleles on Amazon. Do they live up to the hype? Read my full Hricane ukulele review to find out what I think.
A Few Quick Notes
This review is based on my impressions of Hricane's tenor-sized UKS-3. The smaller UKS-2 (concert) and UKS-1 (soprano) are identical except for the body size, so most of my remarks should apply to these models as well
For this review, I purchased a brand new UKS-3 from Amazon using my own funds. The uke in the pictures is the actual instrument I received
This review is part of a series on Amazon's top-selling ukuleles
Summary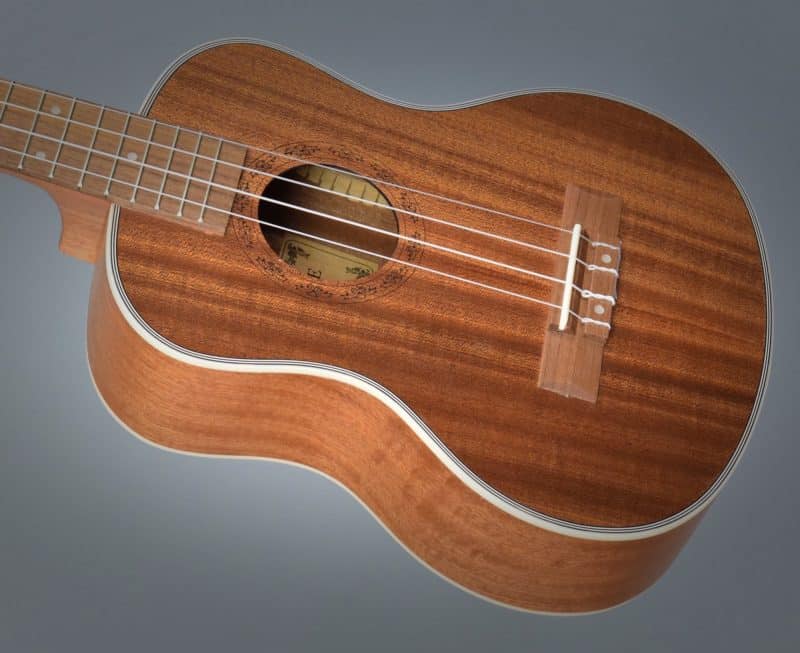 I think the Hricane UKS-3 is a well-built ukulele and a good value for the money.
The UKS-3 is a priced a little lower than other ukes in its class. However, its tone, playability, and build quality were on par with most of the other good starter ukes I've reviewed.
The included gig bag was one of the best I've seen in a budget ukulele package. However, the UKS-3 doesn't include a clip-on tuner, which is really useful for beginning players. Luckily, you can get a great uke tuner for less than $10.
I think the UKS-3, UKS-2, and UKS-1 are all good candidates for people seeking a good entry-level ukulele
Oddly, the label on my UKS-3 reads UK-26, which I'm assuming is because it's a 26-inch tenor ukulele. Similarly, the Hricane concert and soprano ukes are labeled UK-23 and UK-21.
Other Hricane Ukulele Models
Hricane offers a handful of other interesting ukuleles, such as a koa concert with faux-pearl inlay or a solid-spruce top model.
I haven't played these models, but I thought they were worth highlighting.
Build Quality & Materials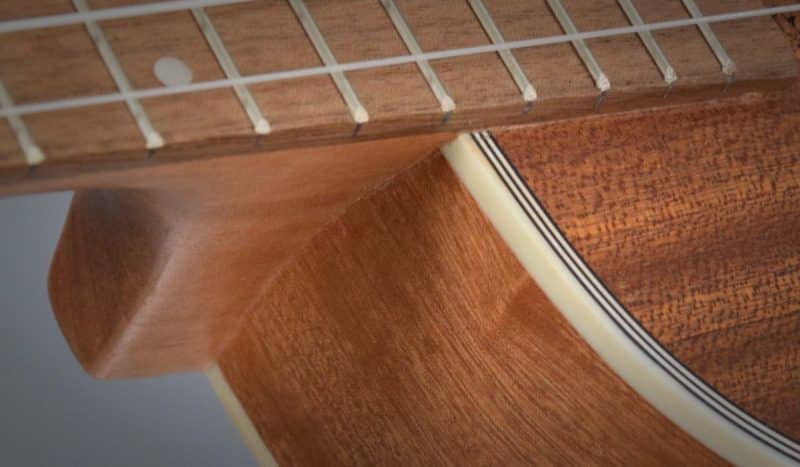 The Hricane UKS-3 I received is very nicely built. Lines are sharp and clean, and all joints are tight and solid. Nice fit and finish, especially at this price. Overall I'm impressed with the build quality and can't find anything worth complaining about.
This uke is also nice and light, and that's a good thing. A light instrument provides less resistance to vibration when the strings are plucked, and more vibration results in a bigger, richer tone.
Wood
The UKS-3 has a laminated Sapele top, back, and sides. Sapele is similar to mahogany, but since this is a laminated ukulele, the "tonewood" used doesn't affect the tone (in my opinion).
The fingerboard and bridge are walnut, which is a nice-looking hardwood that I'm starting to see on more high-end instruments.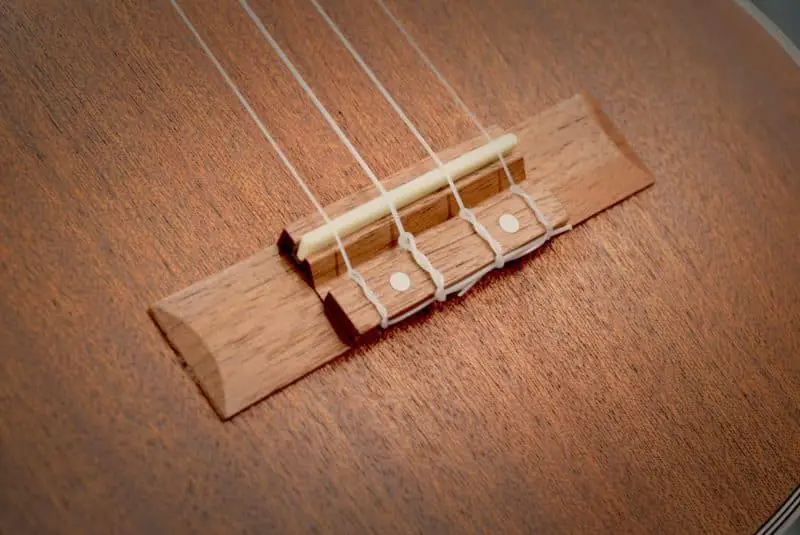 Nut & Saddle
I was surprised to discover that the UKS-3 has a bone nut and saddle. Bone is a material you usually only find on more expensive instruments. Some people feel that bone is the best material for these parts due to its hardness and density.
Many good-quality ukes in this price range use Tusq, which is a synthetic bone-like material. I can't tell the difference between real bone and Tusq. They both sound fine to me, and either material is much better than the soft plastic nuts and saddles found on very cheap ukes.
Binding
The body has black-and-white plastic binding on the top and back. Many ukes in this price range don't have any binding at all, so it was a nice feature to have.
The quality of binding work on budget ukes can be rough, but the Hricane's binding was crisp, even, and smooth.
In addition to protecting the edges of the body from nicks and dings, binding helps the uke "pop" a little more by visually defining the edges.
Finish & Decoration
The UKS series of Hricane ukuleles have a light satin finish. I think it looks great and feels nice during play. I prefer this style of finish to the thick, plasticky finishes on some other entry-level ukes, which I feel look cheap and deaden the tone.
A laser-engraved rosette and headstock logo are the only real decorations on this uke. The laser work is nice and sharp, and it adds a little flair to the ukulele without bumping up the cost. However, I kind of wish Hricane used a simpler rosette pattern–but that's just a personal opinion!
Tone
I really like the tone of my UKS-3. It's warm, sweet, and had good sustain. Overall I'm really happy with the way it sounds.
Since I was playing on a tenor size, I got plenty of volume. The smaller concert and soprano body sizes won't project as much.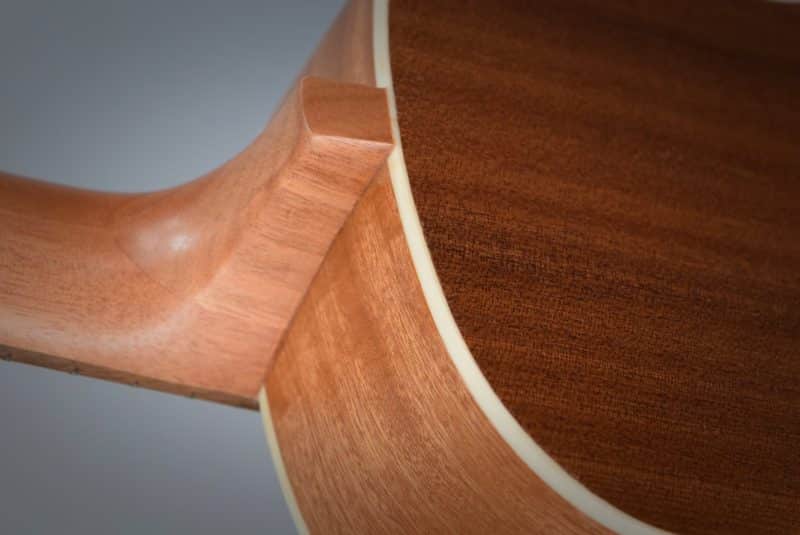 The uke has a nice low end, but it gets a little thin on really high notes. Of course, this is pretty standard for a laminated ukulele. Nearly all of the laminated ukes I've played are a bit weak in the higher registers, so I can't hold it against the UKS-3.
For the money, I think this is a great-sounding ukulele. Of course, it's not going to sound as rich and full as a high-end solid wood ukulele from builders like Kamaka or Martin. But, at this price point, I think it's very good.
Playability
My Hricane uke plays well and had reasonably low action (string height) right out of the box. The neck was straight and I didn't detect any buzzes or rattles as I played up and down the neck.
I might have preferred slightly lower action from the factory. Still, I don't think most players would have any major issues with the string height.
Variation in Entry-Level Instruments
As I've mentioned in other reviews of beginner ukuleles, instruments in the entry-level price range usually have some variation in string height. If you order a UKS-3, it's possible your uke's action will be slightly higher or lower than the one I got.
A bit of variance is normal for instruments in this price range. However, if you receive a uke that seems unusually high or low, you should definitely contact the seller with your concerns.
The Importance of Action
In the world of acoustic instruments, "action" simply refers to how high the strings are in relation to the fingerboard.
Ukuleles with very high action are harder to play but less likely to have string buzz. Ukuleles with very low action are easier to play but more prone to buzzing.
Building an affordable instrument with comfortable action that doesn't buzz is actually quite difficult. It requires tight manufacturing tolerances and is complicated by the fact that wood doesn't behave like metal or plastic.
Tuners
The UKS-3 has closed gear tuners with a subtle gold finish. The plastic buttons had a nice satiny look with what felt like a rubberized coating.
I'm a fan of the tuners on this ukulele. They were very responsive with a smooth, tight feel that made tuning a breeze. The buttons were easy to grip and comfortable to use.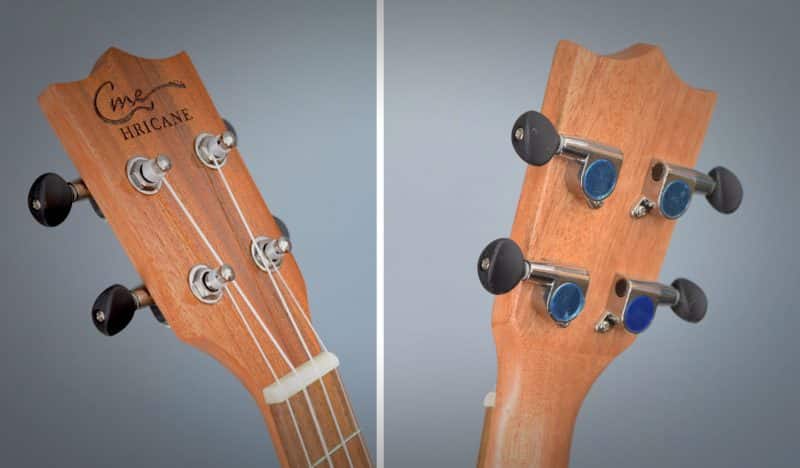 Tuners are often a weak point on budget-priced ukuleles. Many manufacturers cheap out on the tuners, resulting in tuning machines that feel loose and sloppy, with a bit of "play" before the gears start to engage. These tuners are often poorly machined and have a rough, gritty feel that makes them unpleasant to use.
Fortunately, the Hricane UKS-3 doesn't have any of these issues. I think these are some of the better tuners I've seen on a budget-priced ukulele.
Gig Bag
I was impressed with the gig bag that came with the UKS-3's is impressive. It's well made and seems very tough. I think it's the best bag of all the beginner uke packages I've reviewed so far.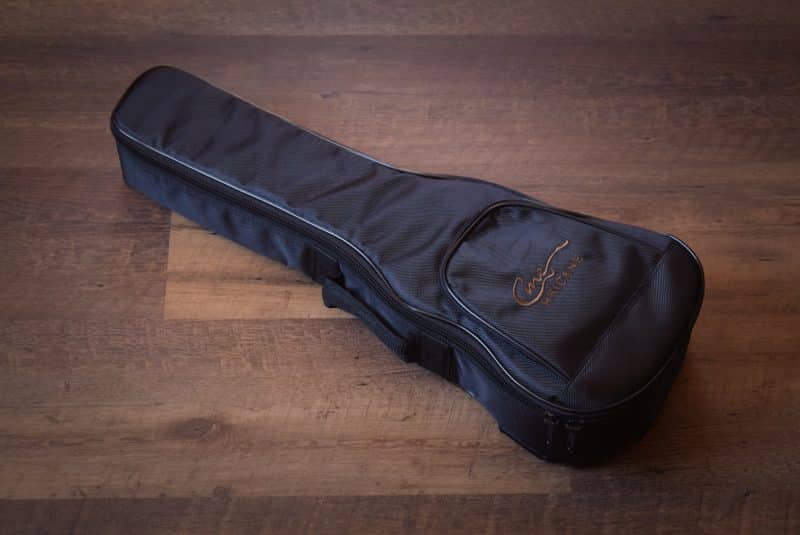 The bag's outer fabric is a heavy woven Cordura-type fabric. It's similar to what you might find on a nice backpack.
The padding is thick and dense. It's very heavy duty and will easily protect the uke from most minor impacts.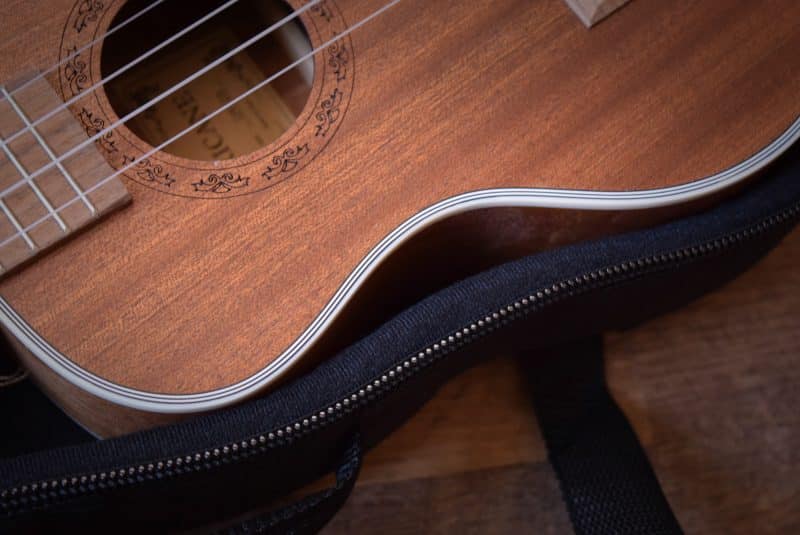 Other things I liked:
Zippers big and smooth
Good-sized pocked
Heavily-stitched handle with good reinforcement
Accessories & Extras
The Hricane UKS-3 I purchased included an extra set of strings and a cleaning cloth. Some users mentioned that they received a capo as well, but mine didn't have one. Not a big deal for me, since I rarely use a capo.
Unlike many other beginner ukulele packages, it doesn't include a tuner, picks, or strap. A tuner is nice to have, so I'd recommend purchasing a good clip-on tuner to go along with this uke (or use a free/cheap app on your phone).
I didn't care about the picks or strap since I don't use either.
Some might be put off by the UKS-3's lack of extras, but to be fair this uke is cheaper than many other similar uke packages I've reviewed.
Warranty & Customer Service
Hricane offers a 30-day money-back guarantee and a 12-month warranty against defects in materials and craftsmanship.
This isn't as good as Lohanu's unconditional lifetime guarantee, but it's better than some manufacturers who only offer a 30-day warranty.
Customers who needed help seemed happy with Hricane's customer service. In the few instances I could find where reviewers had to interact with customer service, they reported that Hricane was responsive and quickly resolved the issue.
Other Resources