In this article, I'll be reviewing the Aklot AKT26 ukulele. This is one of the best-selling budget ukes online, but is it any good? Keep reading to find out.
A Few Quick Notes
This article is based on my impressions of the tenor-sized Aklot AKT26 ukulele package, but most of the information will apply to the soprano and tenor models as well.
For this review, I purchased a new Aklot ukulele using my own funds. The ukulele in the photos is the actual uke I purchased directly from Amazon
This post is part of a series on Amazon's top-selling ukuleles
Aklot Ukulele Review Summary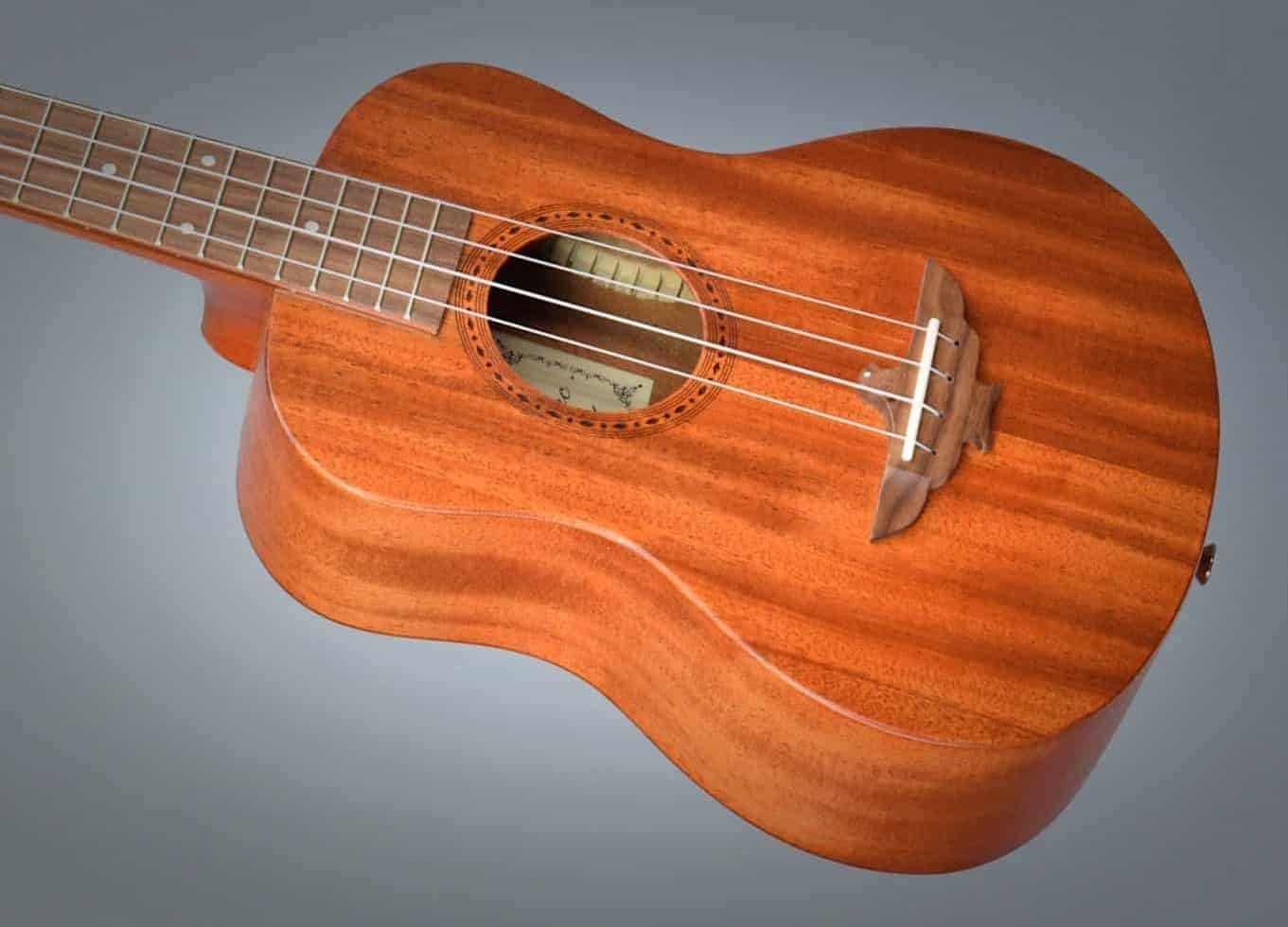 I'll admit I wasn't sure what to expect when I ordered my Aklot AKT26. It was the least expensive tenor uke with a solid top I'd ever seen, so I didn't have very high hopes.
Fortunately, the AKT26 blew my expectations out of the water. It's a beautifully-crafted uke that plays well and sounds incredible.
While I wasn't crazy about the bird-shaped bridge, I liked pretty much everything else about this ukulele.
Build Quality & Design
The construction of my AKT26 is excellent, especially considering the budget-friendly price. The notable feature here is the solid mahogany top, which I discuss more in the section on tone below.
The craftsmanship is clean and crisp. Joints were tight. Finish work and attention to detail were very, very good. There's really nothing I can complain about regarding build quality.
Looking at the uke and thinking about how nicely-made it is, I'm honestly surprised Aklot can produce a solid top ukulele and sell it for this price.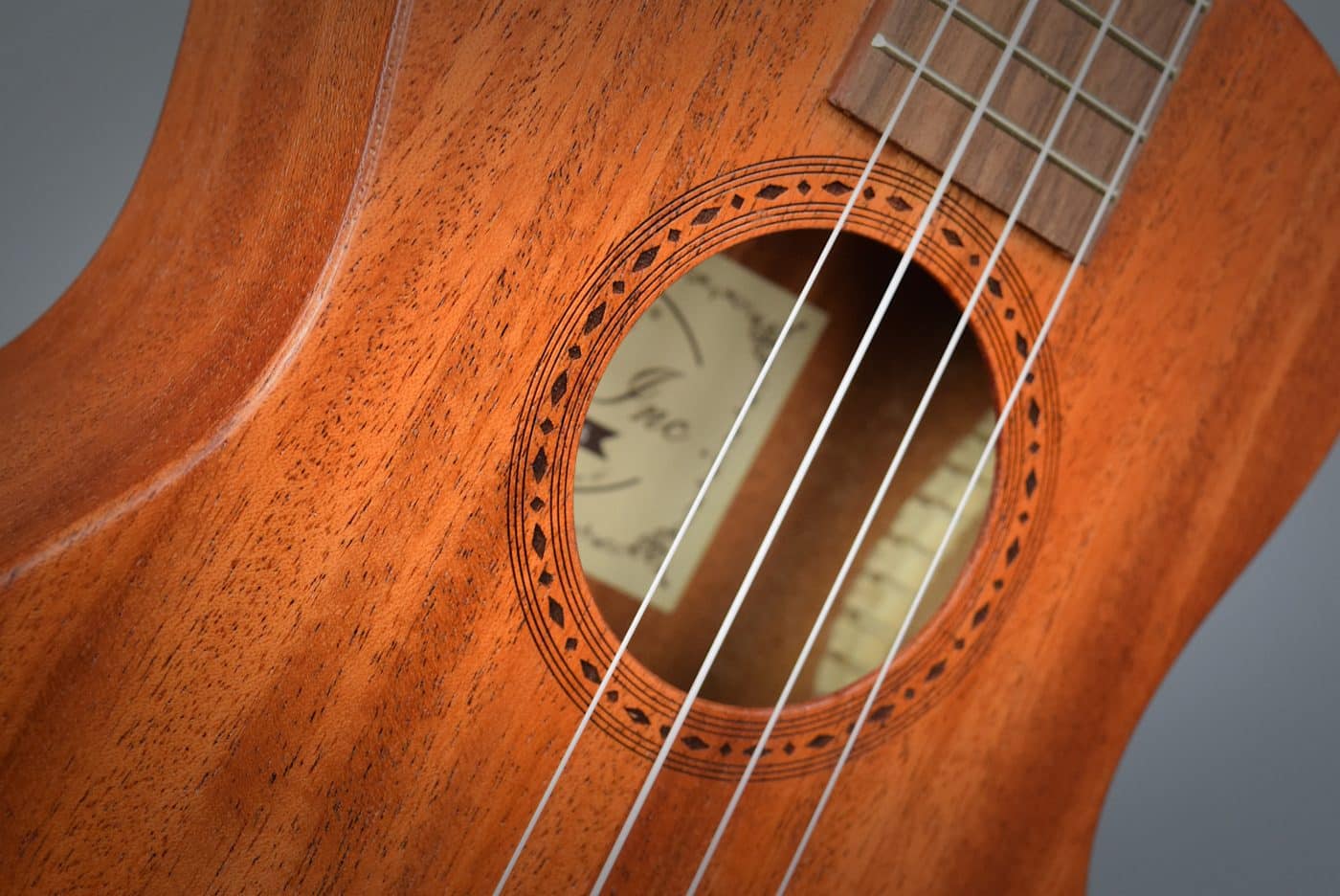 Bridge
My only minor gripe about this ukulele is the bridge. I tend to prefer ukuleles with a more traditional design, so I wasn't crazy about the bird-shaped bridge.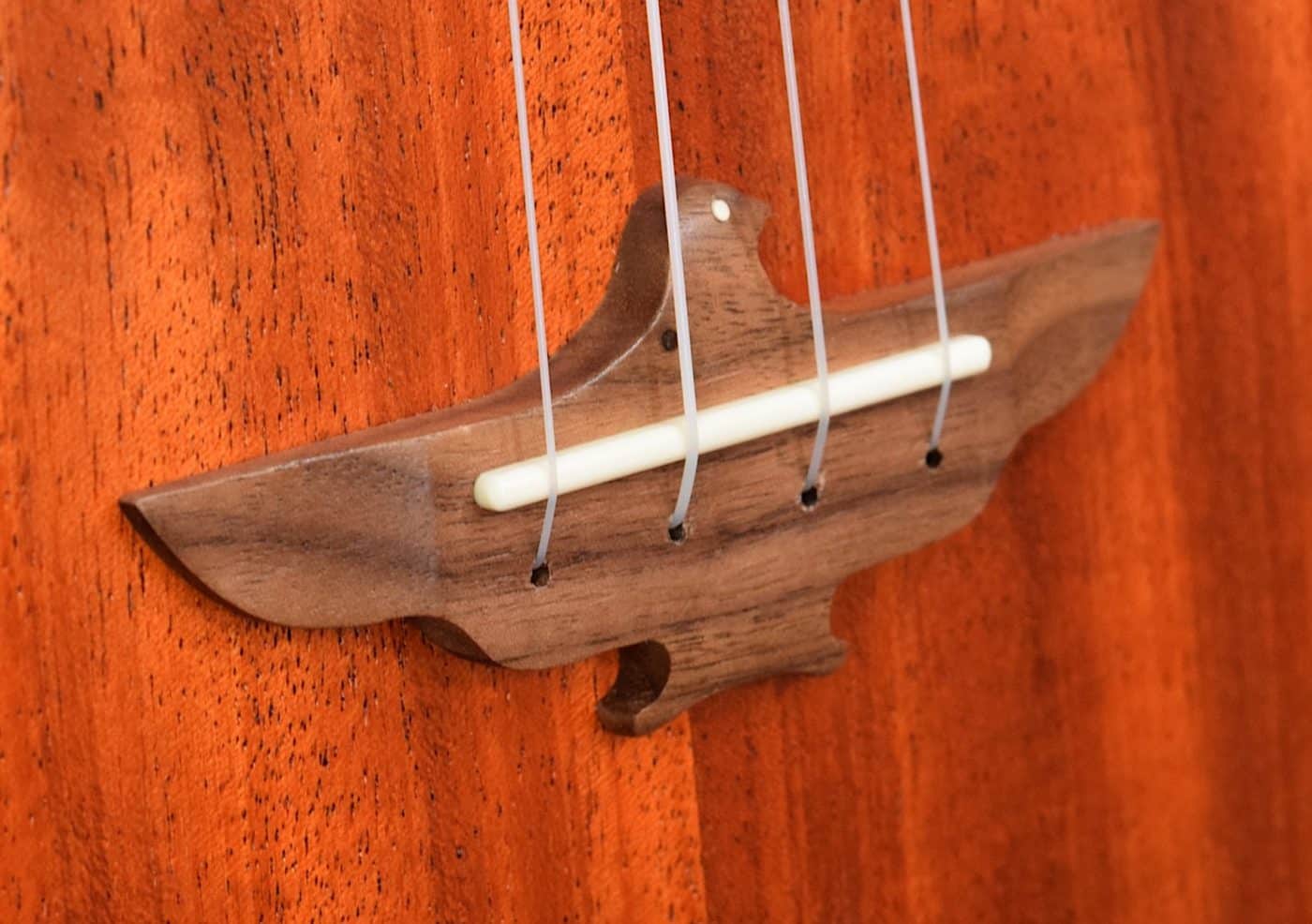 Of course, that's just a personal opinion–I'm sure some people will love the unique design of this ukulele's bridge. Either way, the bridge is nicely made and does what it's supposed to do.
It's also worth pointing out that the bridge isn't the tie-on style found on most ukuleles. Instead, the strings pass through small holes in the bridge and are secured by knots on the inside. This might make restringing a little more challenging, but uke strings are changed so infrequently it's not a big deal.
Tone
When it comes to tone, this ukulele really shines. The solid top construction is well executed and gives the AKT26 a rich, complex tone with great volume and projection. I think it's safe to say this is one of the best-sounding beginner ukuleles I've reviewed so far.
I ended up putting a low G-string on my Aklot, and it helped accentuate the warm, low end even more.
Why does solid wood matter?
Most instruments in this price range are made entirely out of laminated wood because it's cheaper and easier to work with than solid wood. The trade-off is tone: laminated ukuleles usually don't sound as good as instruments built with solid wood.
As a compromise, some beginner uke builders use a solid wood top with laminated back and sides. This building technique offers many of the benefits of solid wood, while still keeping the cost down.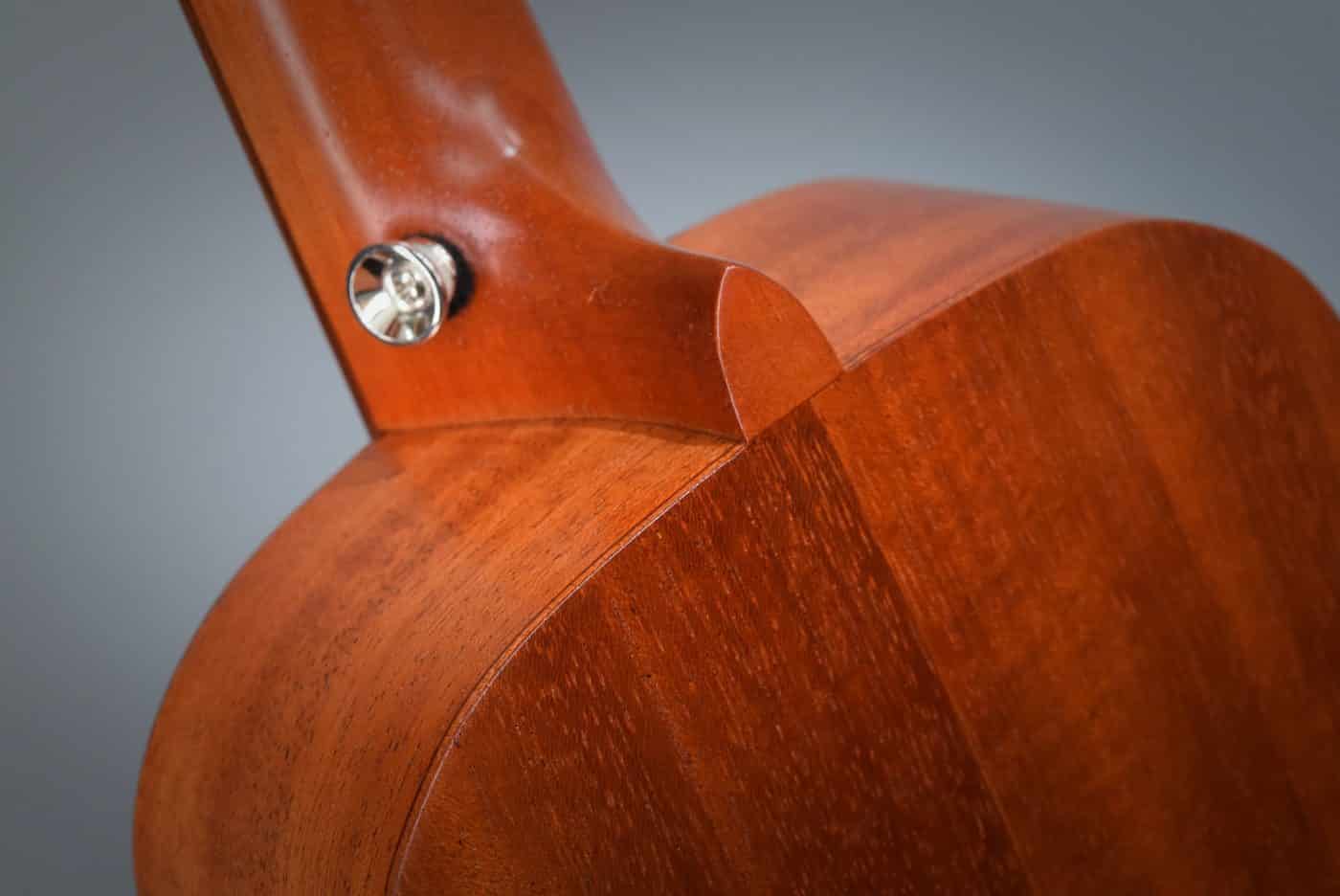 Playability
My Aklot is easy to play and feels comfortable up and down the neck.
The action (string height) is just a bit higher than I prefer, but this is a common issue I have with nearly all of the beginner ukuleles I've tried. It's still a very playable uke.
The fretwork is clean and even. There were no sharp fret ends sticking out from the fretboard, which is is a common problem on ukes in this price range.
There were no high or low frets and I didn't detect any buzzing or rattling.
Tuners
The tuners on this model are excellent. They're smooth, accurate, and have almost no slack or "slop" when you first start turning them.
I've played many entry-level ukes that were great except for sub-standard tuners. It's always a shame to see a good instrument held back by crummy hardware, so I was pleased to see that Aklot didn't cheap out here. Honestly, I wish every entry-level uke builder would use tuners like these.
I also love the simple, classic design of these tuners. These are basic, no-frills, tuning machines with elegant black "butterbean" buttons.
Nut & Saddle
The Aklot's nut and saddle are made of bone. Bone is a material that you typically only see on higher-end ukuleles, so it was a nice surprise to find it on the Aklot.
Many ukes in this price range have nuts and saddles made from plastic. Plastic is a lot cheaper than bone, and it's easier to work with. The drawback of plastic is that it's softer than bone, so it doesn't transmit as much vibrational energy from the strings into the top. In other words, a bone nut and saddle improve tone.
Both the nut and saddle are nicely shaped and well-finished.
Gig Bag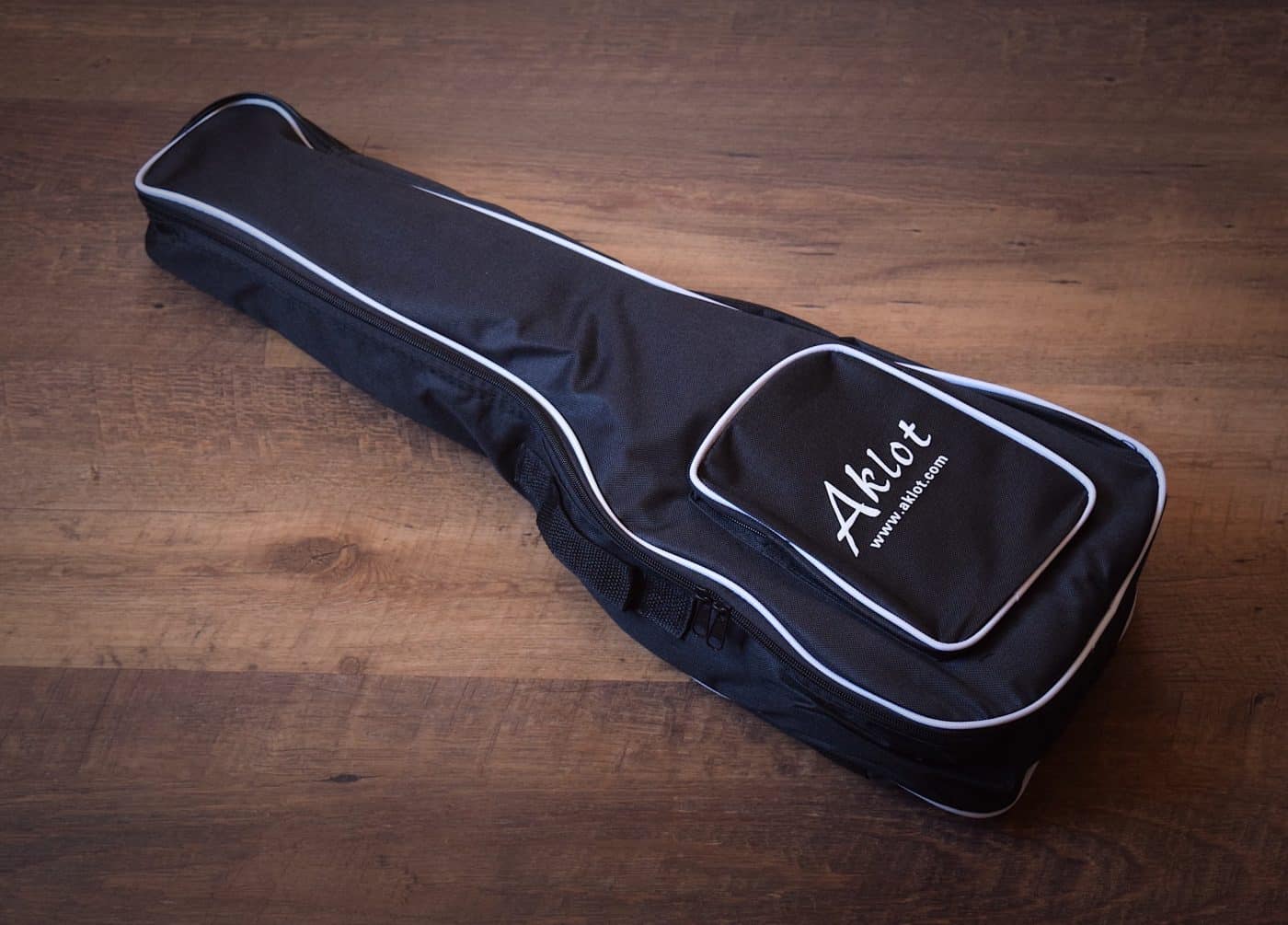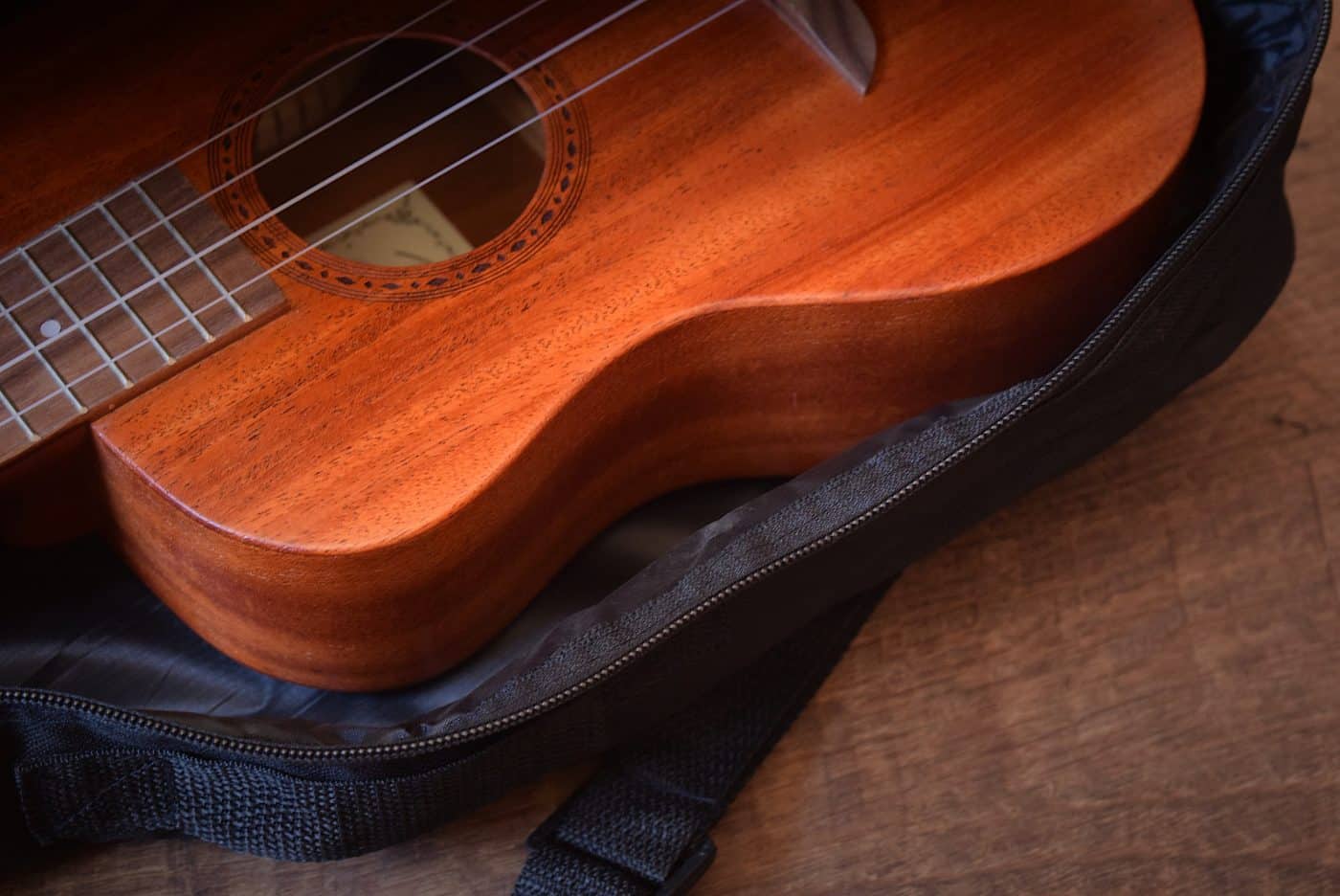 The included gig bag is good quality, although it's a little on the thin side. It's better than what I would have expected at this price point.
If you decide you need more protection, you can always upgrade to a more heavy-duty bag or hard case.
Accessories & Extras
The AKT26 comes with a nice selection of extras, including:
Clip-on tuner
Extra Aquila strings
Strap
"Getting started" book
Picks
You won't need to buy anything else to get started playing your uke right away.
The clip-on tuner works reasonably well, although I'd recommend picking up a Snark tuner for an extra few bucks.
The strap is a classical guitar-style strap. You wear the loop part like a necklace, and the strap with the plastic hook comes around the bottom of the uke and slips into the soundhole.
My Aklot came with one felt pick and one plastic pick. I never use them, and you probably won't either, but it's nice to have them if you want to experiment.
The "getting started" book is one of the best I've seen included with a ukulele. It will answer all of a beginner's questions and have them playing in minutes.
Packaging
For most of the ukes I've reviewed, the packaging is just a boring brown cardboard box, so normally I don't say anything about it.
However, the Aklot comes in the nicest box I've seen with any budget uke. It's a heavy-duty, full-color package with tasteful artwork and a suitcase-style handle.
It's sort of the cherry on top of everything else that I like about this uke. If you're considering this model as a gift, the nice packaging will really add to the "unboxing" experience.
Final Thoughts
The Aklot AKT26 is a beautifully-made uke that sounds great and plays well. It includes a lot of nice extras, and the whole package is amazingly affordable.
If you don't mind the unusual bridge design, it's hard to go wrong with this model.