In this Enya ukulele review, I'll be looking at the Enya Nova U concert ukulele package.
This unique ukulele is built using a carbon-fiber polycarbonate material that makes it rugged and durable, but is the Nova U any good? Is Enya a good ukulele brand? Keep reading to find out.
I was provided with a Nova U concert ukulele by Enya for evaluation. The ukulele in the photos is the actual uke reviewed for this article.
Enya Nova U Ukulele Review Summary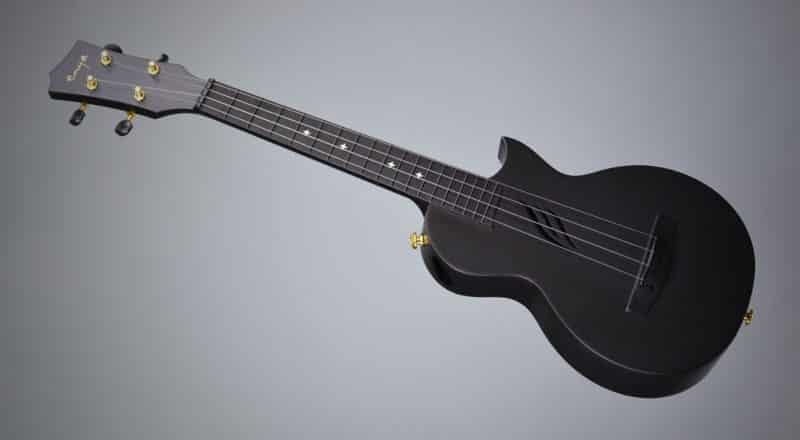 If you're in the market for a tough, high-quality travel uke that won't break the bank, the Nova U should be on your shortlist.
The Nova U's carbon fiber and polycarbonate construction makes for a rugged instrument that sounds great and plays well. There's not much more you can ask for from an instrument in this price range.
The concert-sized Nova U includes a slick rigid soft case, strap, extra strings, and capo. It's  available in a variety of colors, including blue, pink, white, orange, and red.
The Nova U also comes in an acoustic-electric version and a soprano-sized "Mini" model.
Build Quality
The Nova U is made from polycarbonate with 30% carbon fiber reinforcement. The resulting material is strong, light, and impervious to changes in temperature and humidity. This makes the Nova U an ideal ukulele for travel, camping, and extreme environments.
The ukulele is made from two segments that are fused together to create one seamless unit. The neck is hollow but reinforced with a series of ribs.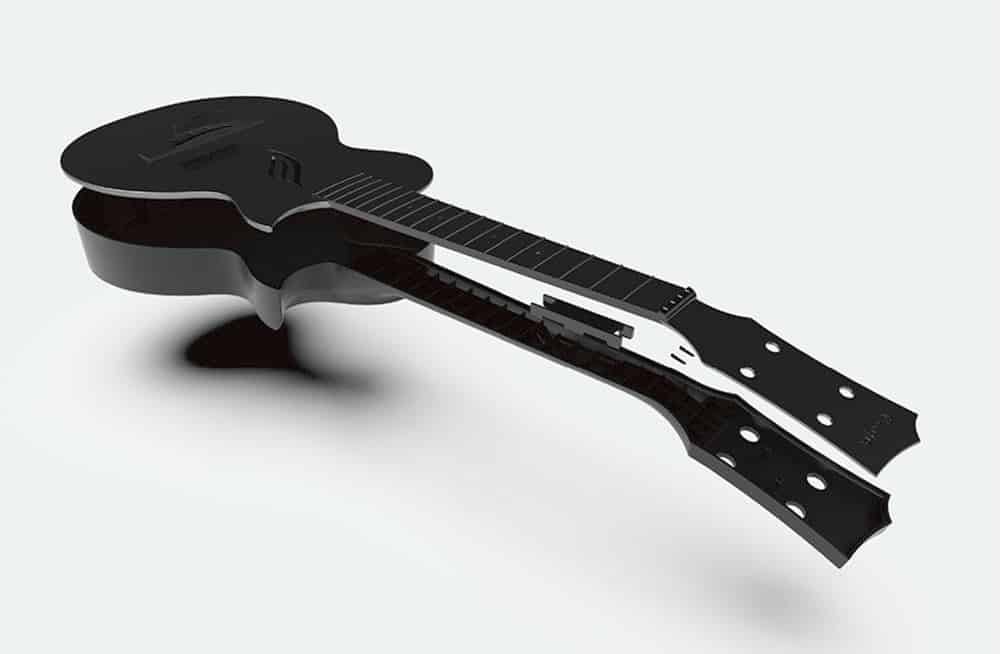 The joints are seamless. In fact, I originally thought it was cast as one piece. Everything about the Nova U is very tight and clean. The flat areas are perfectly flat, the transitions are sharp, and I couldn't find any mold lines or rough edges.
The composite material looks great and has a rich satin sheen. It's also smooth to the touch, not sticky or "grabby" like some of the plastic ukes I've played.
I'm impressed with the build quality of the Nova U, and I love its unique, modern design. It's an eye-catching uke that looks and feels a lot more expensive than it actually is.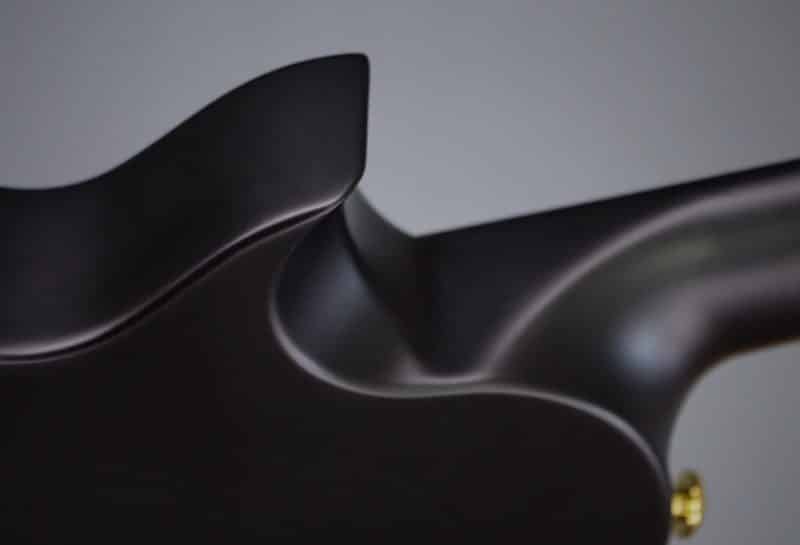 Tone
Tonally, the Nova U is rich, sweet, and complex, with a nice "open" quality that I really like. It has good volume and projection and is very lively. It's quite responsive as well–you don't have to strum or pick aggressively to get a good tone.
Some people may not expect a great tone from a ukulele made of synthetic materials, but one thing I've learned from many years of selling carbon fiber guitars is that an instrument doesn't have to be made of wood to sound great. In my opinion, careful design and craftsmanship are much more important than the raw materials used.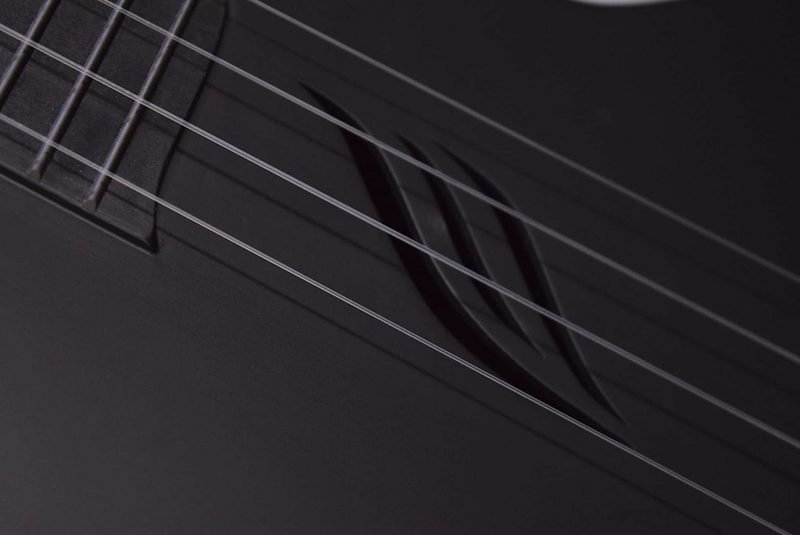 The slim body offers a bit less bass and low end than a full-depth uke, but that's the case with any thin body acoustic instrument, such as the Kala travel ukes. This is simply the trade-off you have to accept for the compact, travel-friendly size of the Nova U. Considering the portability of this uke, the tone is excellent.
My Enya came in traditional high-G ukulele tuning. I'm looking forward to putting a low G string on it, which I think will really fatten up the bass register.
Playability
This Nove U ukulele has excellent playability. The action (string height) is nice and low up near the nut, which I've found is frequently a problem area among budget-friendly ukes. The neck had the perfect amount of forward bow (relief). It played well up the neck, and I couldn't detect any buzzing or rattling anywhere on the fretboard.
I really liked the neck's profile, which is a nice C-shape that feels great and is reminiscent of many high-end ukuleles I've played over the years.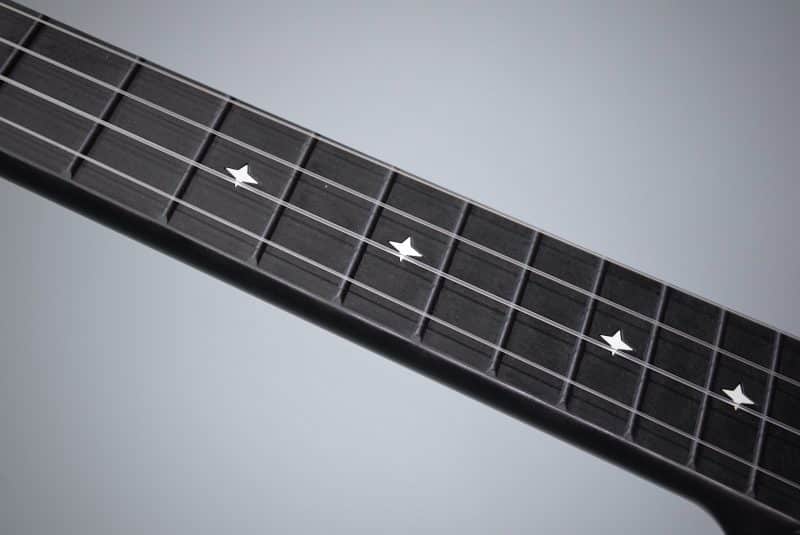 One interesting feature of the Nova U is that the frets are molded right into the fingerboard. While some might be concerned about the durability of non-metal frets, it isn't something that worries me. The carbon fiber and polycarbonate material used in the Nova U is surprisingly hard and rigid–it doesn't have the flexibility or "give" that you'll find with regular plastic.
Another consideration is the fact that ukulele strings are much softer than the strings found on a guitar, and the string tension on a uke is relatively light. This means that fret wear is minimal compared to high-tension steel-stringed instrumented.
Hardware, Nut, and Saddle
The hardware on the Nova U is solid. It has good open gear tuners that worked well with no slop or play. Nothing to complain about here.
The Nova U comes with both strap buttons pre-installed, which is a nice touch and not something you see on all ukes in this price range.
One crucial design feature of the Nova U that I haven't seen on other composite ukes is the removable saddle. From the photos it might look like the saddle is molded into the bridge, but I loosened up the strings and discovered that it comes right out.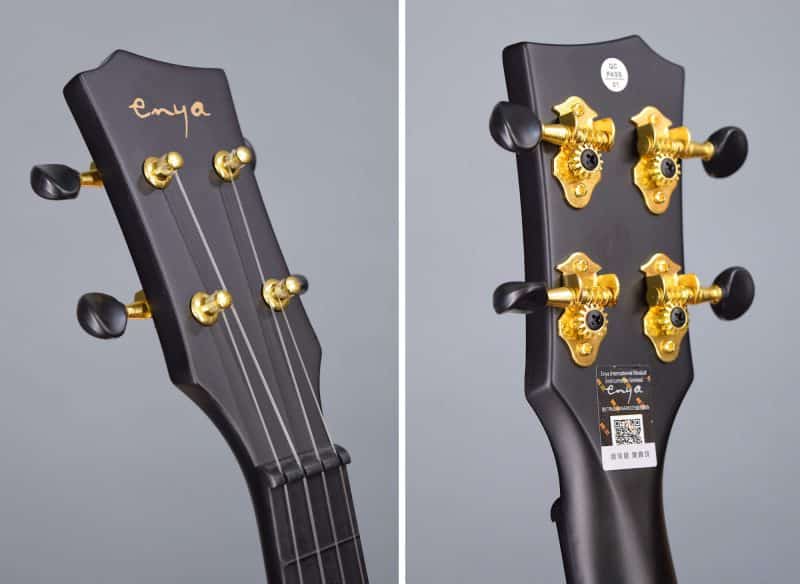 Why is this important? If you want to adjust the action on a ukulele, raising or lowering the saddle is one of the only ways you can do it. When the saddle is molded into the bridge, this task becomes much more difficult. This was one of my major complaints about the Kala Waterman uke I reviewed.
Even though my Nova played beautifully right out of the box, it's nice to know that I can adjust it later on if I want.
While the nut is totally integrated into the headstock, it's a little easier to raise and lower the height of an integrated nut compared to an integrated saddle.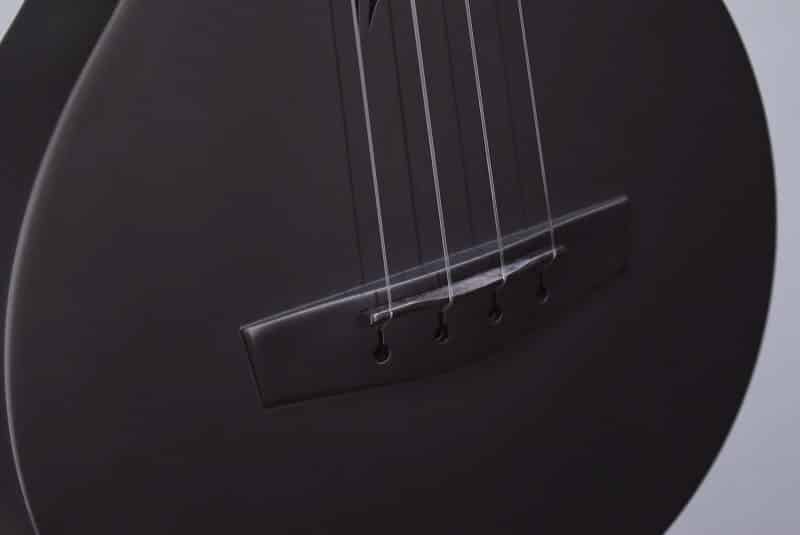 Case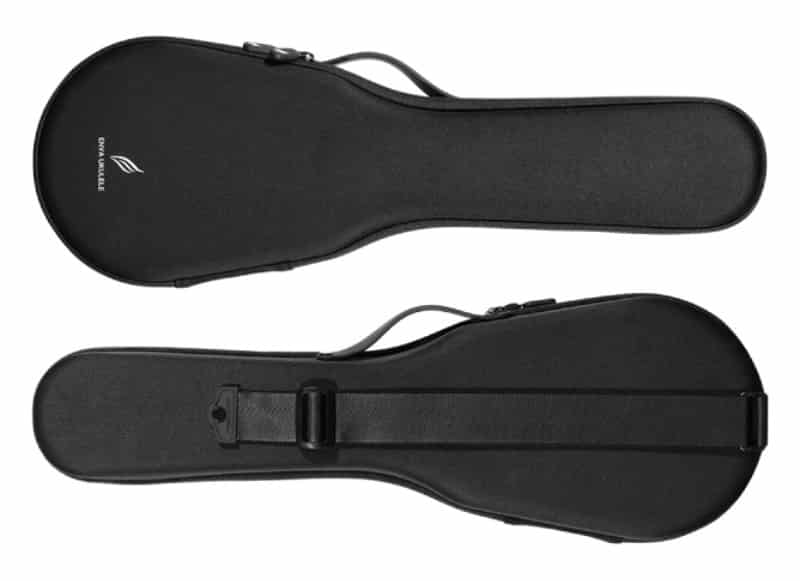 The case that comes with the Nova U is one of the coolest uke cases I've seen. It's sleek and minimal, and it's custom made for the low-profile body of the uke so it fits perfectly.
The material is thin and lightweight, but surprisingly tough. I can't tell if it's a rigid foam or some type of foam-covered plastic, but it feels very sturdy and looks great.
Accessories & Extras
The Nova U comes with a nice black nylon strap, extra strings, and a capo. The strap was nicer and heavier than what usually comes with entry-level ukes.
Even though I don't use a capo (or know many players who do) I liked how lightweight it was. It appears to be made out of the same carbon fiber and polycarbonate material as the ukulele. I'd love to see guitar capos made out of this material.
The documentation that comes with the Nova U is minimal but high-quality. It comes with a simple manual that shows how to restring the uke and operate the pickup (if equipped), a catalog, and a card with links to the free online lessons. It's basic but well done.
It's also worth mentioning the packaging. The Enya offered one of the better "unboxing" experiences I've had with a uke. It arrives in a beautiful matte-finished rectangular box that's reminiscent of Apple products, and the whole package looks and feels more expensive than it actually is. It's always nice when a company treats packaging and presentation as more than an afterthought.