Want a cute ukulele that stands out from the pack? This collection of colorful and unique ukes will help you find an instrument that's sure to turn heads.
Top-Rated Ukuleles in This Article
Here are the top-rated ukuleles I cover in this article. Keep reading for more information on each instrument.
A Quick Disclaimer
This article is simply a collection of interesting ukuleles I've found online. I've played some of the ukes on this list, but there are many models I have no personal experience with.
If I'm familiar with a particular model or brand, I'll mention it. Otherwise, it's a good idea to do your homework before making a purchase!
The Makala Dolphin ukulele is made by Kala, one of the oldest and best-known beginner ukulele brands. As you've probably guessed, the Dolphin uke gets its name from its dolphin-shaped bridge.
In general, Makala ukes are pretty good. I purchased and reviewed a Makala Dolphin ukulele and thought it was decent. As far as novelty ukes go, the Dolphin came in towards the top of the pack.
One interesting feature is the molded plastic body, which might make the Dolphin a good choice for wet environments (like a boat).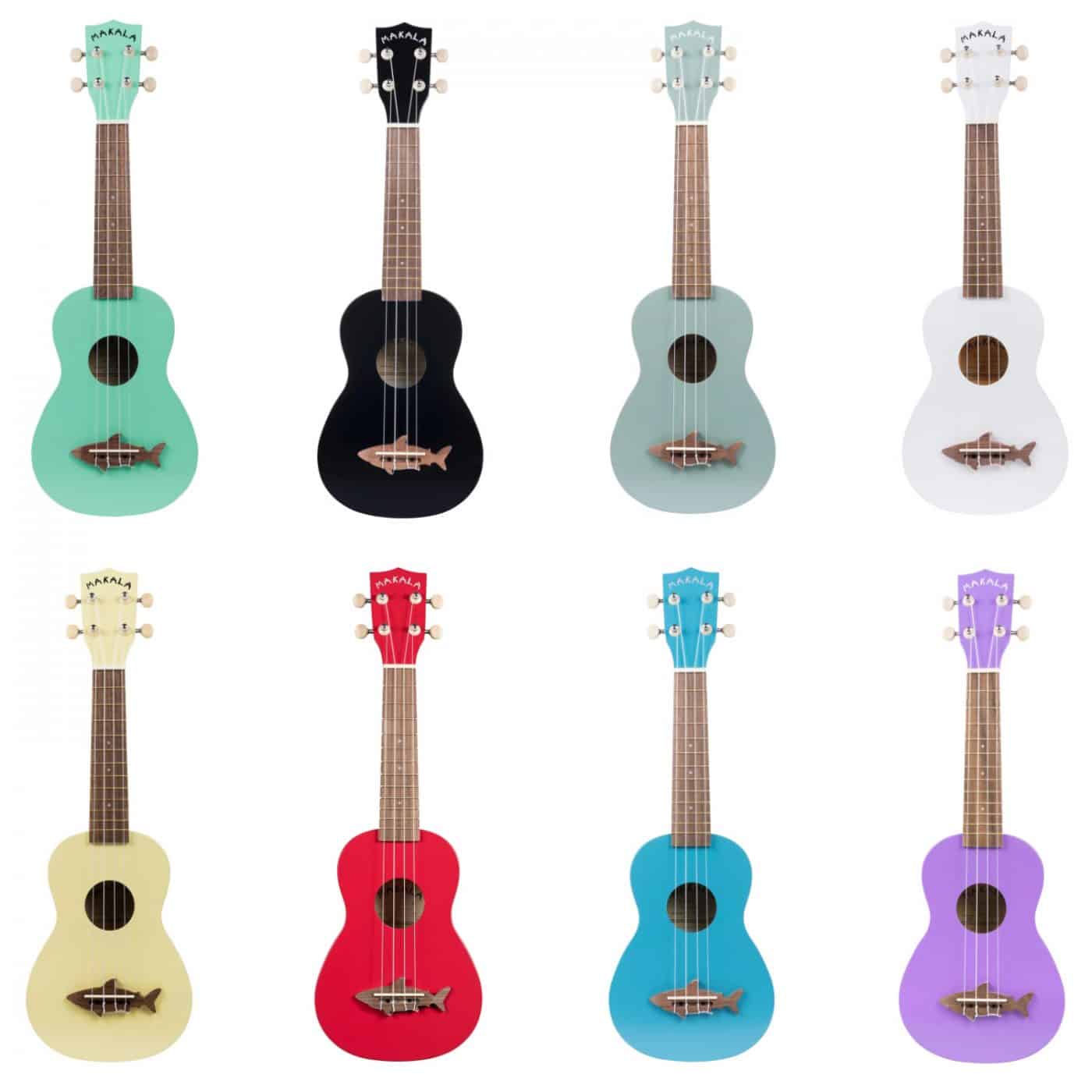 The Makala Shark is identical to the Dolphin uke above, but it has a shark for a bridge instead of a dolphin. That's the only difference, so it all comes down to which kind of marine life you like more.
Like the Dolphin, the Makala Shark uke comes in a wide array of colors.
The KA-15S-H1 is part of Kala's wildly popular KA-15 series of entry-level ukuleles. These ukes are among the best-selling and top-rated ukuleles for sale online.
This model features a laser-engraved silhouette of the Hawaiian islands. It's a subtle touch that helps this uke stand out without going over the top.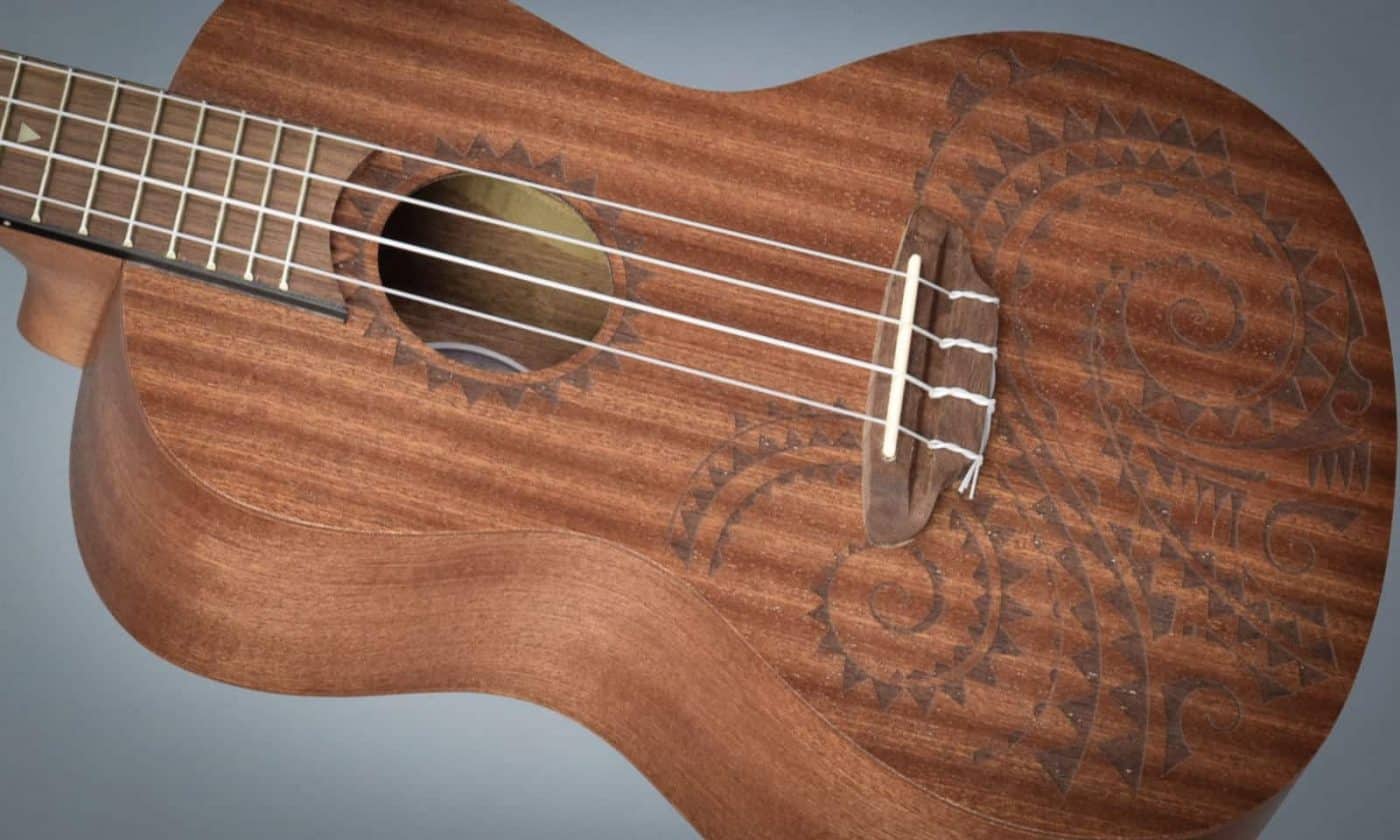 The Luna Tattoo's defining feature is a laser-etched Polynesian tattoo design on the top of the body.
The "tattoo" certainly makes this model one of the more aesthetic ukuleles on the list, but it's also one of the most expensive. In my review of the Luna Tattoo, I said it was a good ukulele but a bit expensive compared to other ukes in its class.
Still, it's a high-quality instrument with an eye-catching look. If you like the tattoo design and don't mind paying a little extra, the Luna Tattoo is worth checking out.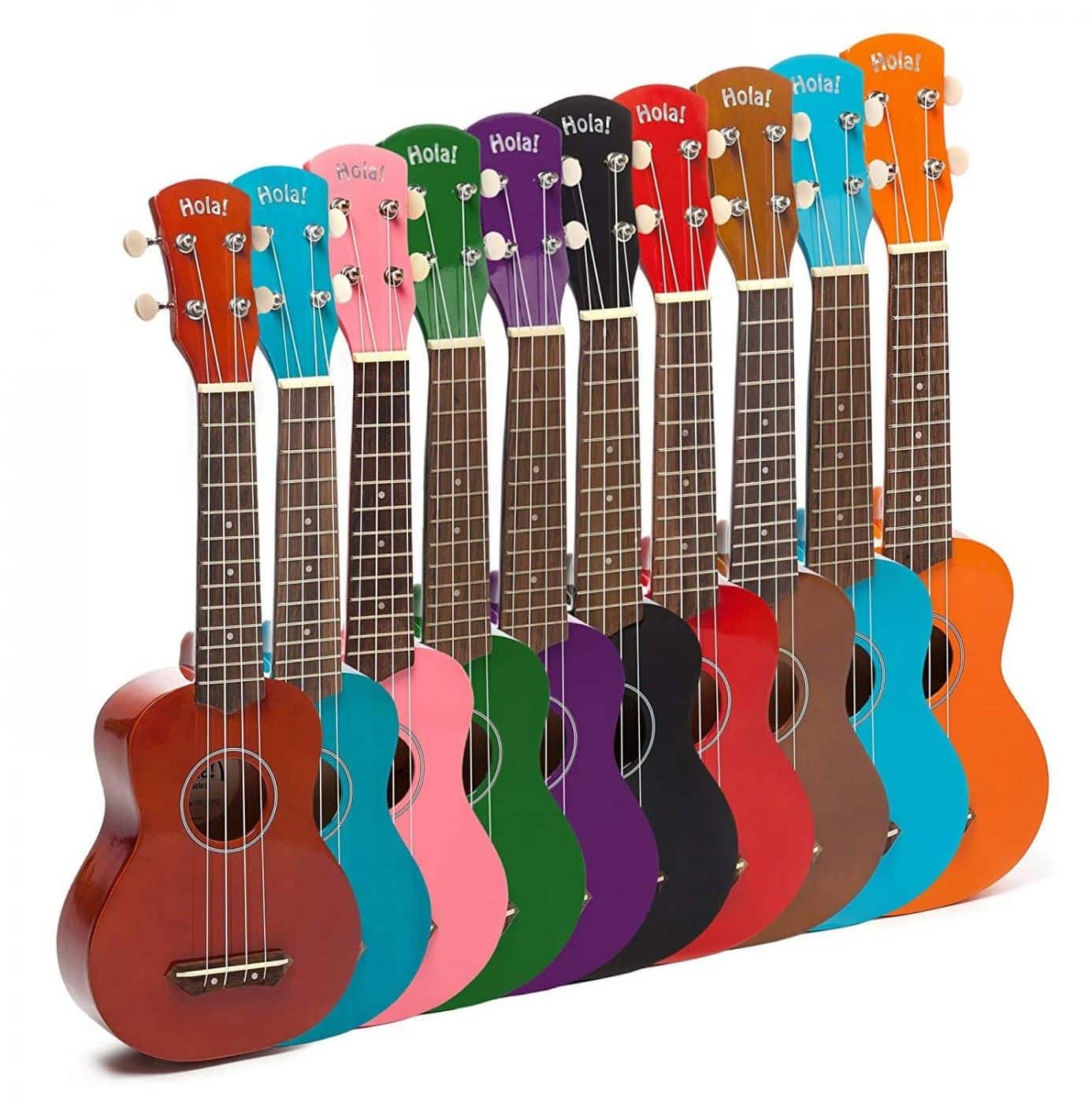 The Hola! HM-21 series of colorful ukuleles offer a wide range of choices: red, blue, green, pink, purple, orange, black, and more.
When I was searching for colorful ukuleles, the HM-21 was the most affordable thing I could find that wasn't just a cheap toy. These ukes qualify as real instruments, but they're at the very low-end of the spectrum.
If you're trying to save a few bucks, you could do worse than the HM-21, but if you're able to budget a little more, you can get something much better.
The Hola! HM-121 is a step up from the HM-21. It comes in a handful of beautiful color and wood options, including black, purple, teal, and zebrawood.
One thing I noticed immediately is that build quality of the HM-121 is much nicer. The craftsmanship looks tighter and cleaner, with overall better attention to detail.
The body on this model has a colored stain that lets the character of the wood show through. I think this stain looks a bit more natural than the painted body of the cheaper HM-21. These ukes also feature a neat laser-engraved rosette pattern.
Hola's HM-121 also appears to have upgraded tuners plus a bone nut and saddle. Finally, the gig bag is a padded tan bag as opposed to the flimsy fabric slipcover included with the HM-21.
The next step up is the Hola! HM-124+. This model has a concert size body, which is a little bigger than the soprano-sized HM-21 and HM-121.
In general, a concert uke will sound a little warmer and richer than an equivalent soprano ukulele. The larger concert size may also feel more comfortable to some players since the fingerboard is longer and there's a little more room between the frets.
The main cosmetic upgrade I noticed is the binding on the top and back, which are the white plastic strips on the edge of the body. Binding helps visually define the uke's shape while protecting the corners.
The HM-124+ is available in a handful of interesting colors and tonewoods, including blue, purple, black, ebony, and zebrawood.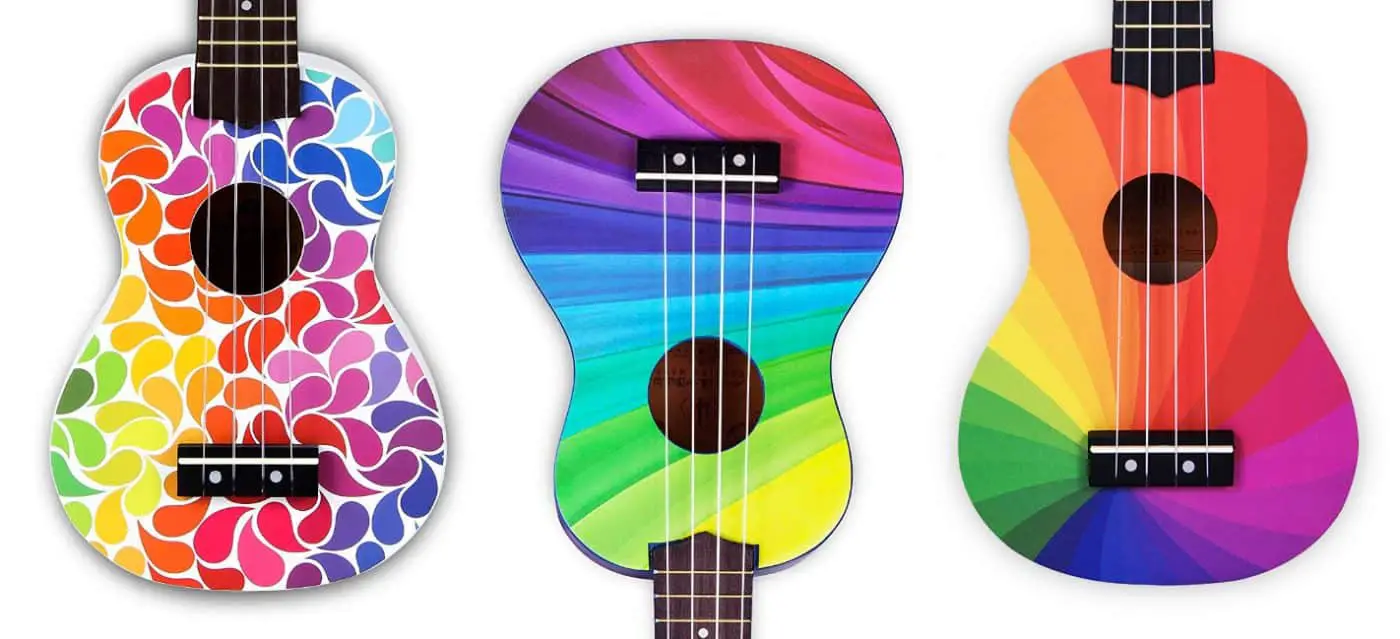 Honsing produces a series of cute ukuleles with unique patterns and colors. When it comes to unique ukulele designs, Honsing seems to offer the most variety.
In addition to the solid color pink and purple models, there are ukes with rainbows, waves, tropical designs, and more.
I don't know much about Honsing ukuleles, so I can't comment on their quality. They have good customer reviews, and I'm sure they're fine if you're just looking for a cheap novelty uke to play around with.
However, at this price, the chances are high that these aren't great instruments. Buy with caution.
This Balnna Rainbow concert ukulele was so unique I had to include it on this list.
Available in soprano, concert or tenor size, this model features a flame maple body with a pretty rainbow stain pattern. The top has a "41-style" abalone/pearl top inlay, meaning that the pearl runs along the edge of the body.
Other interesting features include the big "color card" block inlays on the fretboard and multi-colored strings. It also includes a gig bag that appears to be pretty heavy-duty.
How does it sound? According to Balnna's Amazon description: "Tiger grain maple wood on the all, this instrument offers great sustain, durable and a good separation with ample of warmth." I couldn't have said it better myself.
Full disclosure: I've never heard of this brand or seen any of their ukes in person, so I can't comment on quality. I'm a little leery of the thick high-gloss finish, which I've found can be a tone killer on entry-level instruments, but without playing one, I can't say for sure.
I reviewed a Hricane UKS-3 tenor ukulele and was really impressed with the quality. It was surprisingly well-crafted, played nicely, and sounded great. Overall, I felt it was one of the best beginner ukes I had reviewed, especially considering the low price point and high-quality gig bag.
While I haven't played the UKP-1, I would guess that the quality is as good as any of Hricane's other ukuleles. The main differences I could spot between the Hricane I own and this model are the spruce top and the laser-engraved "Vine & Flower" pattern on the front.
In addition to this model, Hricane also has a koa ukulele with pearl inlay and a slotted headstock.
The Donner DUC-2 features a zebrawood body with faux-abalone binding. Zebrawood has naturally occurring dark stripes, making it one of the more exotic and beautiful ukulele tonewoods.
This model is available in a soprano and concert size as the DUS-2 and DUC-2. I own the soprano version of this uke, the DUS-2.
I've also reviewed the DUC-1, which is Donner's less fancy concert uke. Both are amazing instruments for the money, and some of the best beginner ukuleles I've put my hands on.
To be honest, I'm amazed that Donner can produce such an ornate instrument at this price without sacrificing quality, but my experience with their ukes has been nothing but positive.
If you're looking for a high-quality cute ukulele that won't break the bank, this one should be at the top of your list.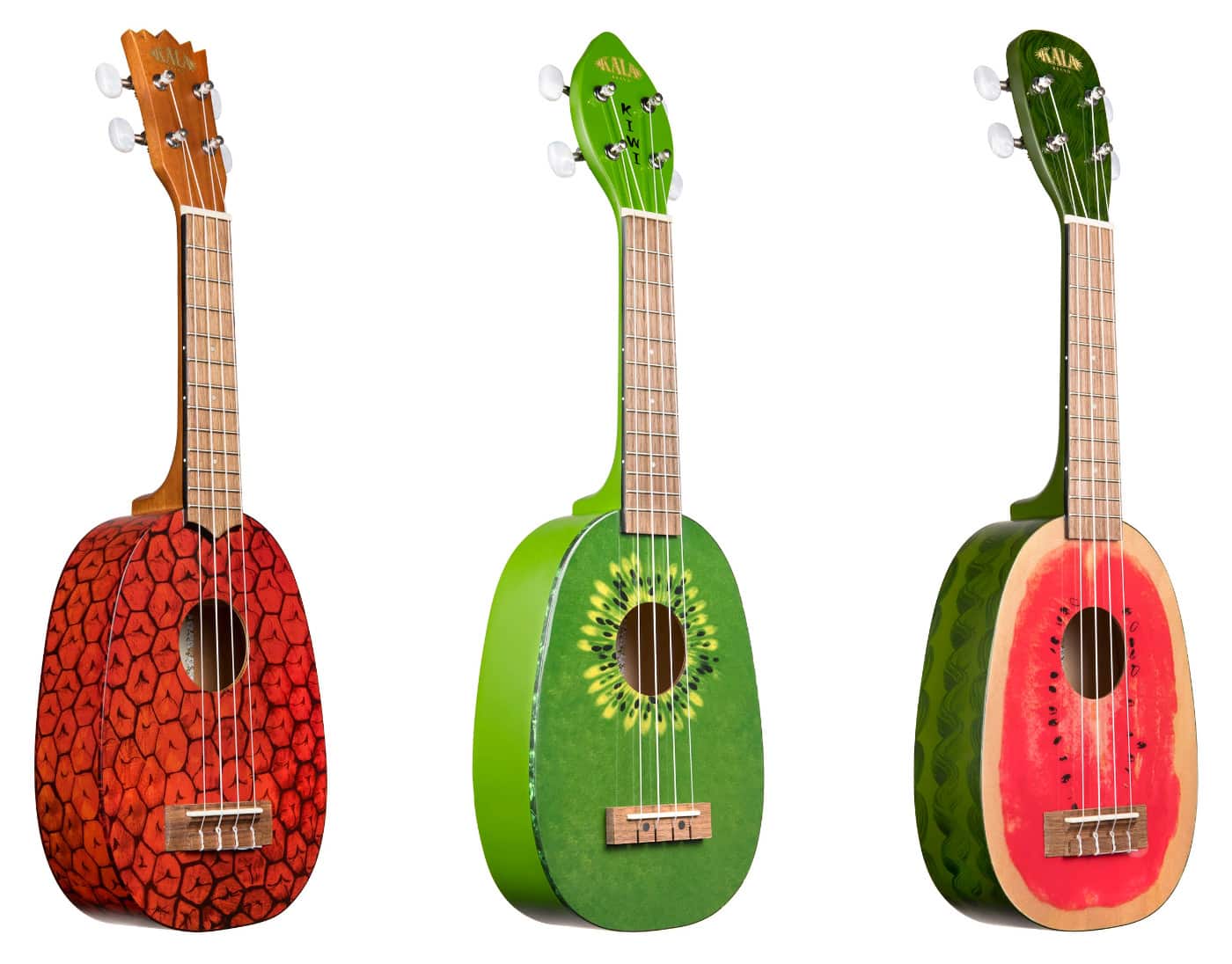 The pineapple ukulele size was pioneered decades ago by Kamaka, the oldest Hawaii-based ukulele company. In addition to its eye-catching shape, it tends to have a slightly warmer, richer tone thanks to the extra body volume.
This model is available in the designs:
Pineapple (KA-PSS)
Kiwi (KA-KIWI)
Watermelon (KA-WTML)
Kala is one of the oldest names in beginner ukuleles, and they make very nice instruments for the money. While many companies have only recently jumped on the bandwagon as the ukulele gained popularity, Kala has been there from the beginning.
It's also available without a screen printed design on the front, giving the uke a more traditional look.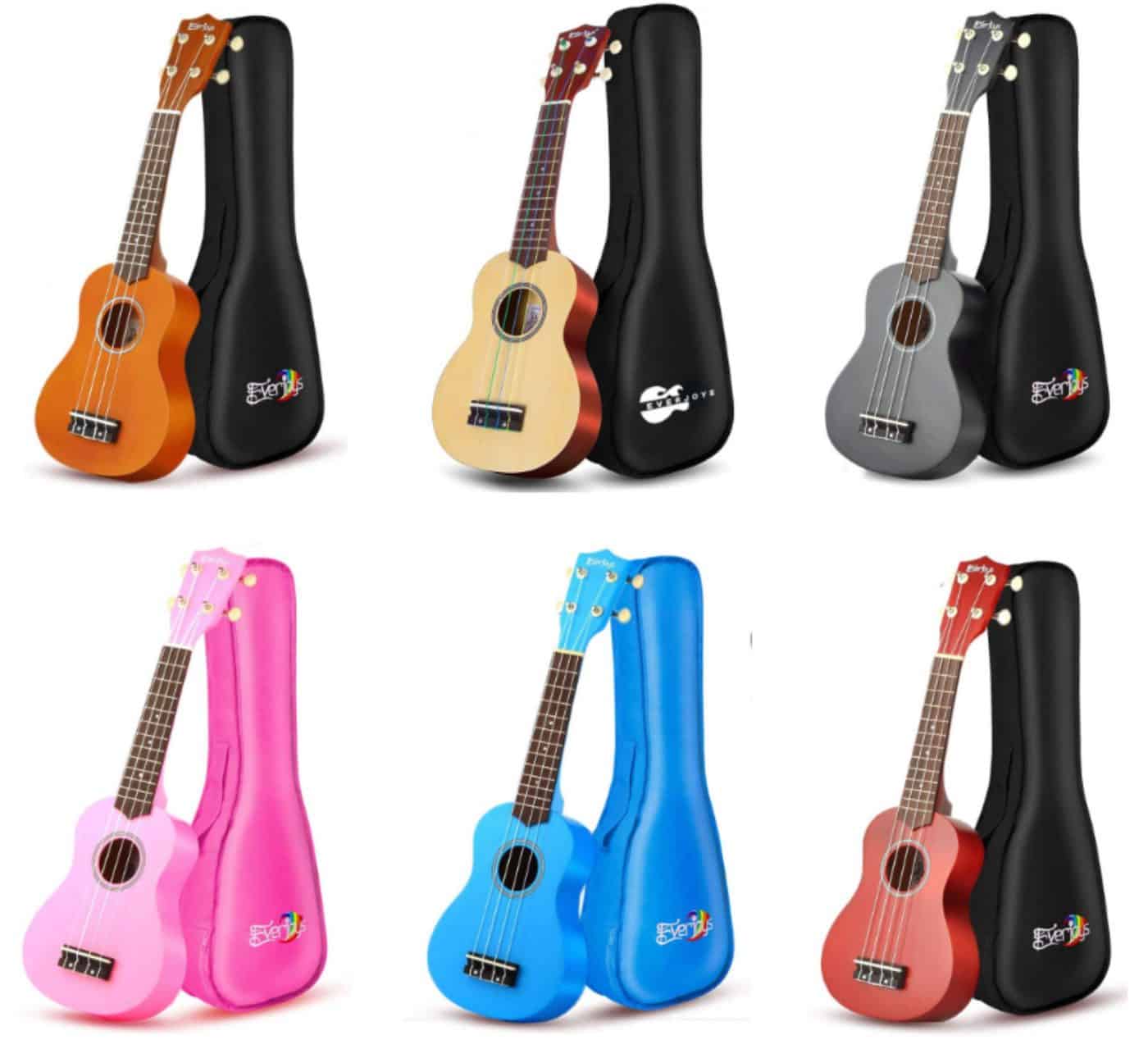 These Everyjoys ukulele packs are affordable and come in a wide range in vivid colors. Each beginner uke kit comes with a clip-on tuner, extra set of strings, and color-coordinated gig bag.
I don't know anything about this brand, but I thought Enya's round ukulele was so cool I had to include it on this list.
If you're looking for something completely different from the typical hourglass-shaped uke, this is it!
The Enya round body uke is made of HPL, or high-pressure laminate. HPL is a composite material made by impregnating layers of kraft paper with a resin binder. It's a durable material that is used by companies like Martin for their more affordable X Series guitars.
The DUS-3 is another cute uke offering from Donner. This model features a pretty "Clouds & Sun" pattern laser-engraved on the top.
As mentioned earlier, I'm a big fan of Donner's entry-level ukes and feel they make great instruments for the money.
Donner offers this model in a soprano, concert, and tenor size.
This Kmise concert ukulele features a whimsical vine and snail pattern on the top. This model is also offered with a variety of other patterns and designs, like a farm scene or big-eyed cat.
In my opinion, the Pyle Pro PUKT55 is one of the coolest-looking ukes on this list.
It appears to be made from laminated pieces of wood that have been stained different colors and cut at an angle. This technique produces a beautiful swirly, multi-colored pattern that's unlike anything I've seen on a ukulele before.