In this review, I'll be taking a look at the Luna Tattoo ukulele. This uke features a unique Hawaiian "tattoo" on the front. It's an eye-catching design, but is this ukulele any good? Keep reading to find out.
A Few Quick Notes
For this review, I purchased a brand new ukulele from Amazon using my own funds. The uke in the pictures is the actual instrument I received
My impressions are based on a Luna Tattoo Concert Mahogany. Luna also makes a tenor Tattoo ukulele that is identical except for the body size, so most of my remarks should apply to that model as well
This review is part of a series on Amazon's top-selling ukuleles
Summary
The Luna Tattoo is a good ukulele. It's well built and plays reasonably well, and I was especially impressed with the tone.
I wasn't a fan of the tuners, and the included gig bag wasn't very good. Otherwise, I felt this uke was a good quality instrument considering the price.
This Luna Tattoo isn't a bad choice for beginners, but there are certainly better choices when it comes to overall value. Many beginner uke packages for sale online these days come with more and cost less.
Bottom Line: If you love the laser-engraved tattoo design and don't mind paying a bit more, there's no reason not to get this ukulele. If you want to get a little more bang for your buck, check out my breakdown of the best beginner ukuleles.
Other Luna Tattoo Models
In addition to the concert model featured in this review, Luna makes a few other versions of this uke, including a tenor size version and an acoustic-electric ukulele with a cutaway.
I haven't played these models, but I would assume the quality and tone are similar to the one I reviewed.
Build Quality & Materials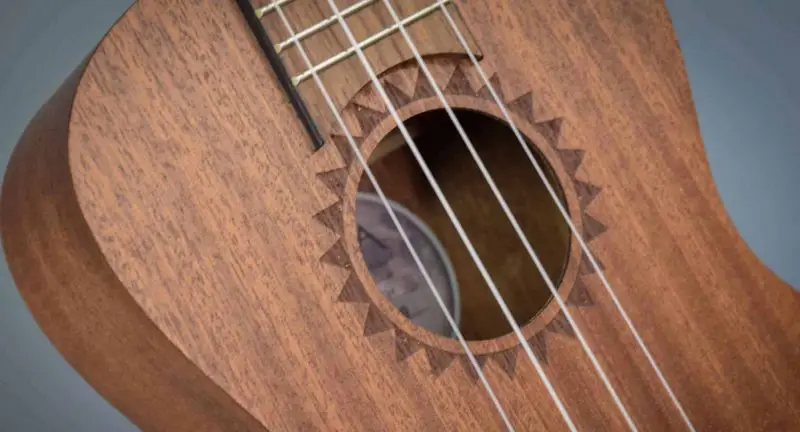 The Luna ukulele I purchased for this review is nicely crafted, with no obvious flaws or defects. The joints and seams were all tight, and the craftsmanship was clean and crisp. Given the price, I couldn't find anything to complain about.
It's nice and light, which is a quality I look for in any ukulele. In the world of acoustic instruments, light is good because it means there's less resistance to vibration when you pluck the strings. The result is a more resonant, lively instrument with a better tone.
Woods
The top, back, and sides of this Luna concert ukulele are laminated mahogany. As I've mentioned in other ukulele reviews, I don't think laminated wood has an impact on the tone in the way that solid wood does. In my opinion, laminated mahogany sounds very similar to laminated Sapele, laminated koa, and so on.
The fingerboard and bridge are walnut, which is a durable hardwood that I've now seen on several high-end instruments.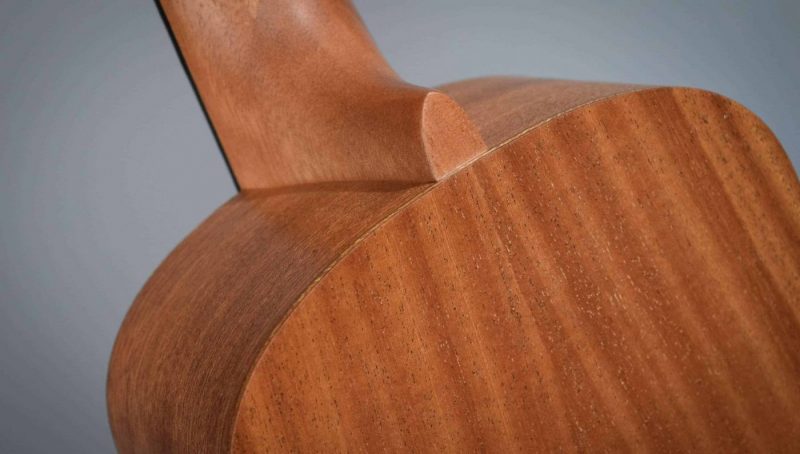 Nut & Saddle
On Luna's webpage for the Tattoo ukulele, they state the nut and saddle are graphite. It looks and feels just like TUSQ, which is a manmade material designed to simulate the properties of bone.
I can't tell for sure what the nut and saddle are made from, but it feels very hard and tough. It's much better than the plastic parts often found on very cheap ukuleles.
Frets
No issues here. The frets on my Luna concert uke were smooth, level, and even. I didn't have any fret ends sticking out, which can sometimes be a problem with budget ukes.
Luna Tattoo Design
This ukulele's most unique design feature is the large tattoo pattern on the front.
The laser-engraved pattern is based on traditional Hawaiian and Polynesian tattoo styles. Apparently, it's inspired by a Hawaiian turtle design, although to be honest I don't really see it.
Still, I think it's a cool design that is tastefully done. The pattern is subtle and doesn't overpower the rest of the uke, which is fairly light on decorations.
The laser engraving is very crisp and looks surprisingly natural. When looking closely, you can see that the engraving process exposes the grain of the mahogany top, which I thought was kind of neat.
I did notice some random light flecks inside the laser-engraved areas. It wasn't too obvious and didn't bother me, but I still wanted to point it out.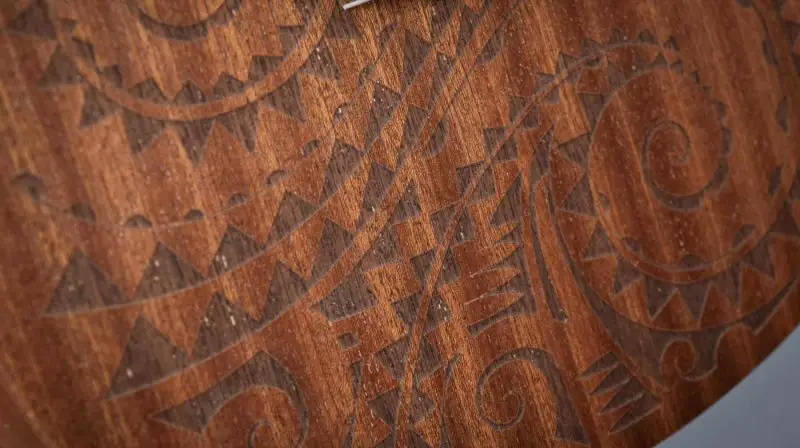 Tone
Tonally, my Luna Tattoo is very open, airy, and sweet. It has great volume and lots of sustain. Overall I'm really happy with the way this ukulele sounds, especially considering the price tag.
It has a nice, rich low end, but the trebles are also very strong. The treble register is often the weak point of a budget ukulele's tone due to the laminated wood construction.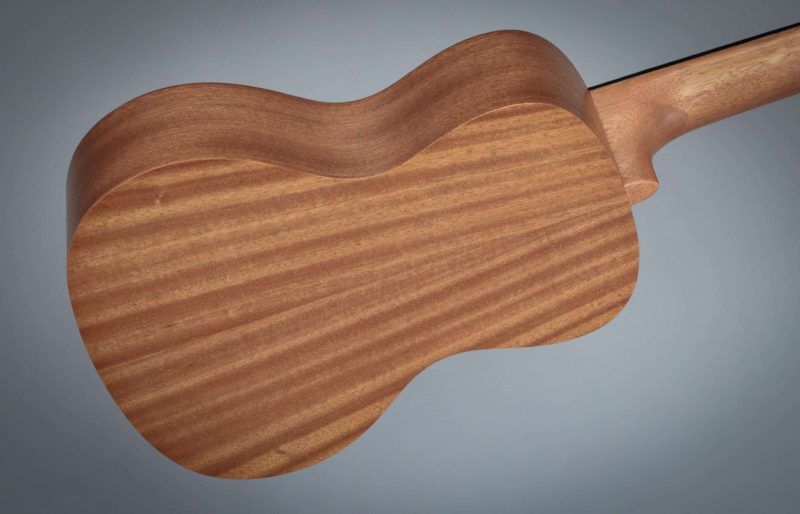 Thankfully, this uke doesn't suffer as much from that issue. I think this is partly due to its slightly oversized concert body. I checked it against a Lohanu LU-C concert ukulele I own, and the Luna was slightly bigger all around.
I actually thought the Luna Tattoo I ordered was a tenor when I unpacked it, but it's clearly designated as a concert size uke on Luna's website.
Playability
My Luna Tattoo came with decent action (string height) from the factory and was easy to play without adjusting anything.
The neck was perfectly straight, and the frets were even and level. I didn't detect any high or low spots that would cause buzzing and rattling.
About Action & Beginner Ukuleles
As is often the case with beginner ukuleles, I would have preferred for the action (string height) to be a little lower from the factory.
However, it's important to have realistic expectations of an entry-level instrument like this Luna concert uke.
Some Variation Is Normal
As I've mentioned in other reviews, entry-level ukuleles usually have some variation in string height. If you order a Luna uke, it's possible your action will be slightly higher or lower than mine.
A bit of variance is normal for instruments in this price range. However, if you receive a uke that feels unusually high or low, you should contact the seller with your concerns.
Tuners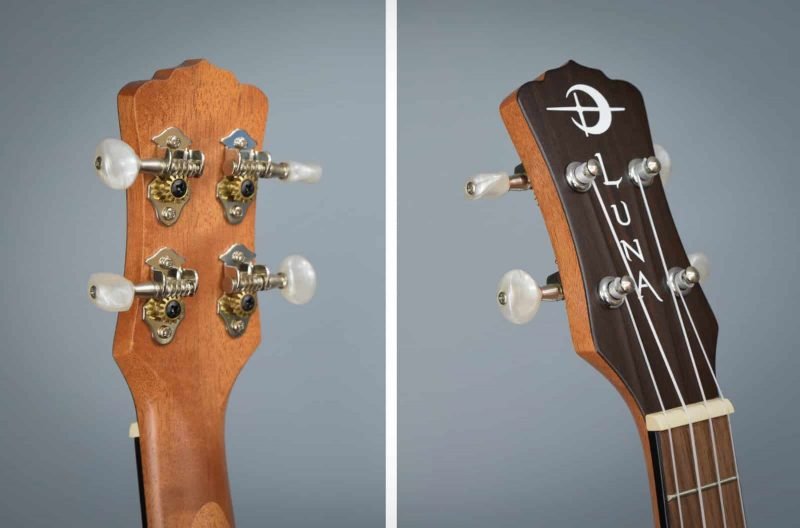 The tuners were good, but not great. The tuning action was a little gritty, and a couple of the tuners had small tight spots.
Many of the other entry ukuleles I've played and reviewed had far better tuners than the ones that came on my Luna.
Still, they got the job done, and I don't anticipate them having any major issues. One nice thing was that they didn't have too much slack before the gears engage, which is something that drives me nuts.
Gig Bag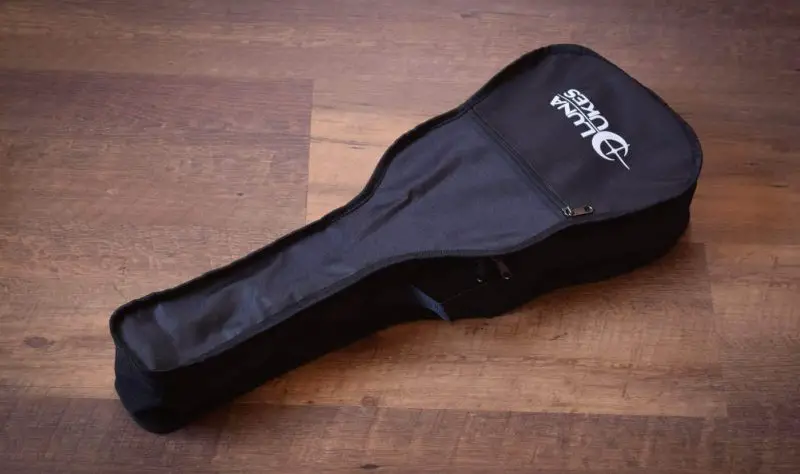 The included gig bag is just OK. It's pretty thin and has minimal no padding.
Compared to the awesome bag that came with the Hricane UKS-3 I just reviewed, the Luna's bag seems cheap and flimsy.
It'll guard the uke against light scratches and dings, but if you want more serious protection, I'd consider investing in something more substantial.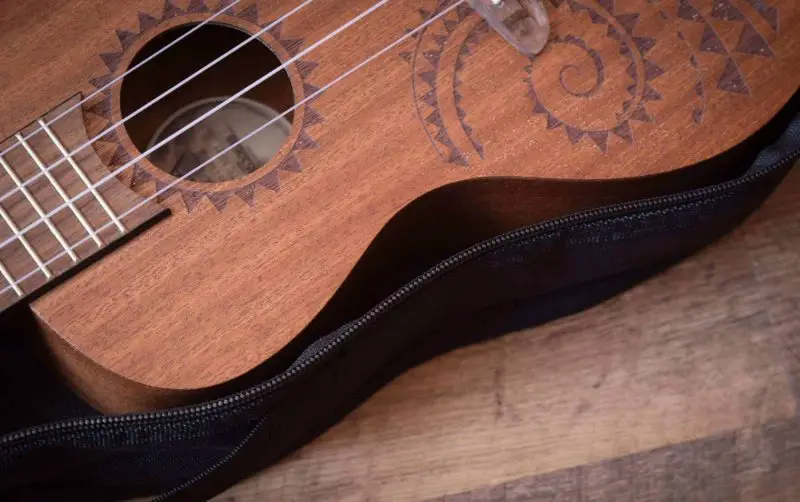 Accessories & Extras
This Luna concert ukulele doesn't include any extras or accessories, which is a little disappointing. There are lots of great beginner ukes that cost less than the Luna but include a tuner, strap, and extra strings.
There are sellers on Amazon who package this model with a tuner and heavy-duty case, but these items aren't standard from Luna.
Warranty & Customer Service
Luna offers a lifetime warranty on all of their instruments, which is a good thing on its face.
However, the warranty claim process looks it's a bit of a hassle. From what I understand, you have to find an authorized Luna dealer then pay the shipping to and from Luna. This process will likely cost as more than what you paid for the uke in the first place, so it kind of defeats the point.
If you buy through Amazon, you'll have the usual 30 days. After that I'm not sure what the support is like.
The truth is that mass-produced, entry-level instruments can have issues or can develop issues over time. The only way to guard against this is with a customer-focused warranty that doesn't cost you anything if something goes wrong.
Other Resources