In this review, I'll be looking at Donner's top-selling ukuleles: the DUS-1 soprano, DUC-1 concert, and DUT-1 tenor.
These models are among the most affordable and highest-rated ukuleles for sale on Amazon. I was anxious to try one myself and see if I agreed with everybody else!
A Few Quick Notes
This article is based on my impressions of concert-sized DUC-1, but most of the information will apply to the DUT-1 tenor and DUS-1 soprano.
For this review, I purchased a new DUC-1 concert model using my own funds. The ukulele in the photos is the actual uke I purchased directly from Amazon
This post is part of a series on Amazon's top-selling ukuleles
Summary
The Donner DU-1 series are surprisingly good ukuleles for the price. I honestly wasn't expecting this level of craftsmanship, playability, and tone from a mass-produced budget uke.
Based on my experience with the DUC-1, I think this brand's glowing customer reviews are accurate and reflect the high quality of the instrument. This is definitely a brand to put on your short list when shopping for a good beginner ukulele.
Current prices and Amazon customer reviews are shown below. If you purchase through one of these links I earn a small commission.
What I Liked
Simple, no-frills design
Tight construction with excellent fit and finish
Decent accessories
Loud, full tone
Possible Drawbacks
The fluorocarbon strings that came on the uke sound good, but I prefer Aquila Nylgut strings. This is just a personal preference–your mileage may vary!
The see-through tuning machines work well but the tiny "window" on one of my tuners fell out after lugging the uke around for a couple days. Not a problem functionally (many ukes have open-geared tuners) but still noticeable
Build Quality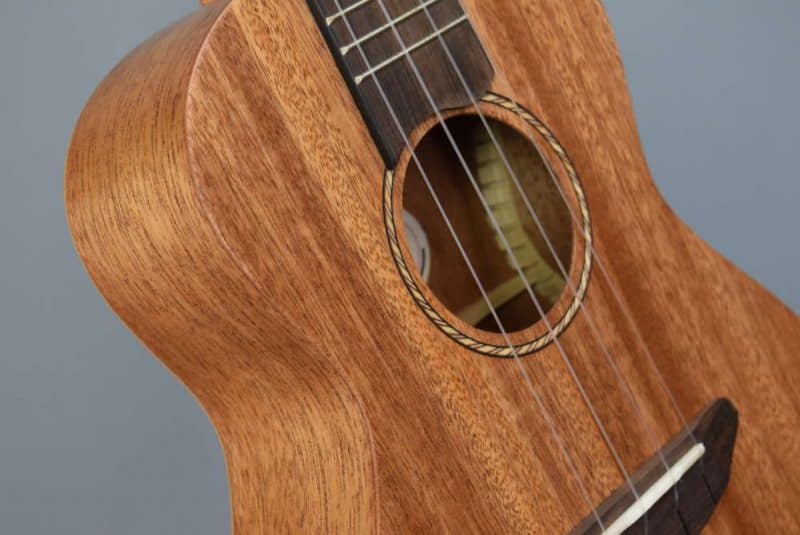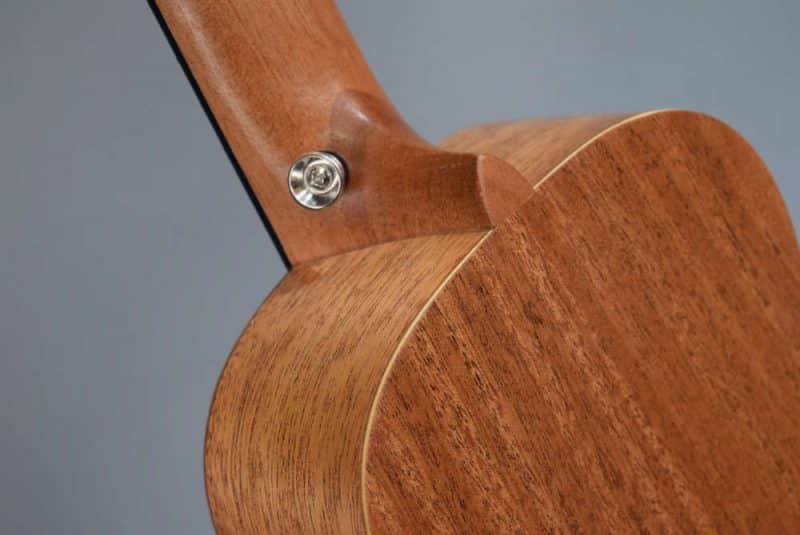 The construction on my DUC-1 is tight and clean. Attention to detail is excellent. For the price, I'm genuinely impressed with the fit and finish on this uke.
The instrument is also very light, and in the world of acoustic instruments that's a good thing. Lower quality ukes are often heavily built, and this often results in a thin, lifeless tone. A lighter build allows the ukulele to resonate more freely, which leads to a bigger, warmer tone.
Some highlights:
I'm a fan of Donner's minimal, no-frills design, including the unbound body and fingerboard (no white strips on the edges)
The wooden rosette features a design similar to the "rope" pattern found on many traditional Hawaiian ukuleles. I thought this was a nice touch.
The uke has strap buttons already installed. A lot of people don't use a strap so it's not a huge deal, but it's nice to have the option if you ever want to try using a strap
The top is X-braced, which is typically only found on higher-end ukes from Martin, Kamaka, etc. I'm not sure how much it helps improve the tone, but it was a neat little touch and I thought it was worth mentioning
The nut looks like TUSQ (a synthetic material) and I think the saddle is bone. These materials are harder and denser than the soft plastic pieces used on many budget ukes, and they improve tone by transferring more of the string's vibrational energy into the body of the uke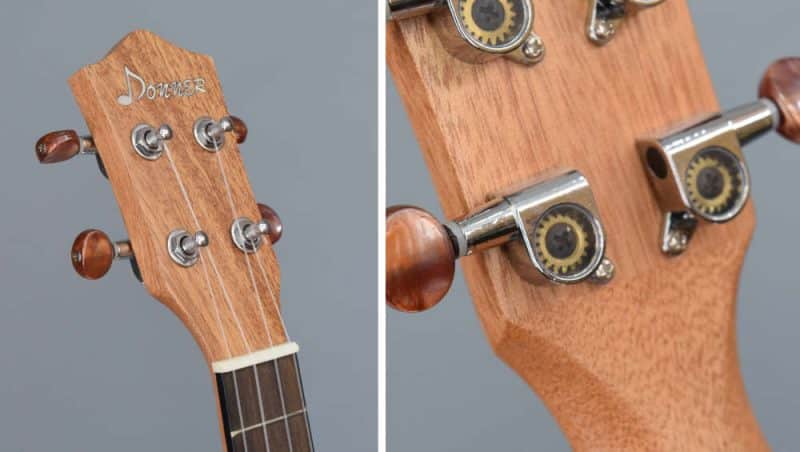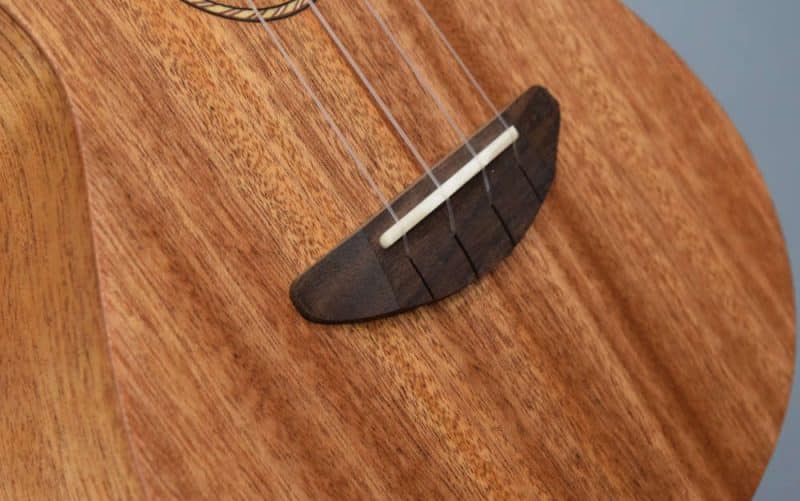 Tone
I really like the way my Donner uke sounds. It has a loud, full tone with a nice low end. Great projection for a concert. Sounds good strummed and when playing fingerstyle.
It loses a little warmth as you move up the neck, but that's normal for a uke made from laminated wood.
As you may know, the size of a uke also impacts the tone. The soprano-sized DUS-1 will be a little more bright and treble-focused, while the tenor-size DUT-1 will have more bass and volume.
I think this uke would sound even better in low-G tuning, so that's my plan for this one after I finish the review.
Playability
Very comfortable to play right out of the box. Action (string height) is nice and low. On budget ukes I often find I need to adjust the action, but I don't think I'll need to tweak my DUC-1.
Notes ring out clearly up and down the neck. No high frets or buzzing.
Gig Bag
The gig bag isn't very heavy duty, but it's more than I'd expect from uke at this price point.
It seems well made and has enough padding to protect the uke during light use. The shoulder straps and large pocket are nice touches.
It's a perfect bag for day-to-day stuff, but I'd recommend a hard case or heavier bag for major travel.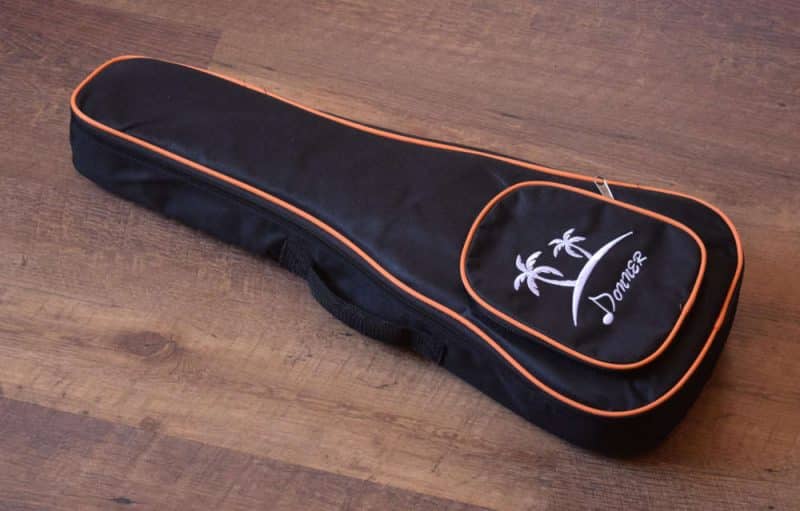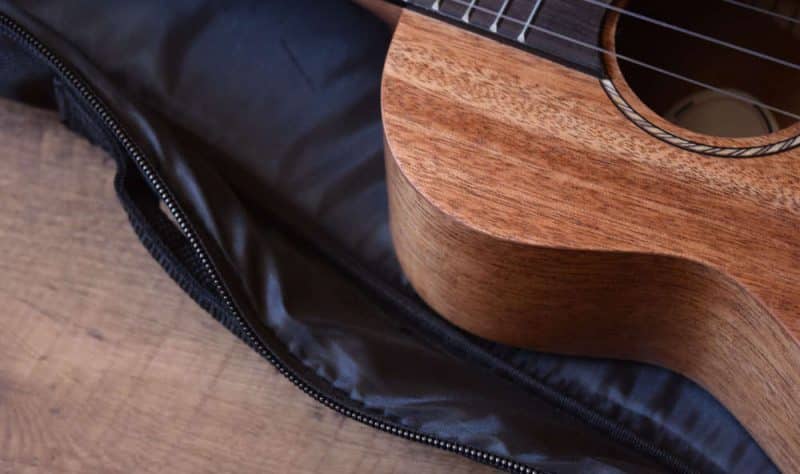 Accessories & Extras
All Donner ukuleles include a few accessories. They're not top-tier products, but they work and are nice extras considering the price.
The strap is lightweight but reasonably good quality. It attaches securely to the strap buttons.
An extra set of strings are always good to have
The clip-on tuner works well and is easy to operate. I only need the chromatic mode not all the other options (banjo, violin, bass) but that's a minor complaint.
The plastic guitar picks are a little silly since almost nobody uses this kind of pick on a uke. A felt pick would have made more sense, but most people just use their fingers (which is what I suggest doing).
My Donner uke came in a nice, heavy-duty cardboard box and the accessories were individually packed in little Donner-branded boxes. The overall presentation was nicely done and I think might make Donner's ukes a bit more "giftable" than some other brands.
Customer Service & Warranty
Donner offers a 30-day return policy. I couldn't find anything about a warranty online or in the packaging.
It doesn't look like many people had issues, but I'm not sure what would happen if you have a problem beyond 30 days.
So far, the best warranty I've come across on a beginner ukes is the
Lohanu brand
, which has an unconditional lifetime warranty.
Donner Ukulele Customer Reviews and Pricing