In this review, I'll be taking a look at Lohanu's three top models: the LU-T tenor, LU-C concert, and LU-S soprano.
Lohanu makes some of the best-selling, best-rated ukuleles on Amazon, but do they live up to the hype?
A few quick notes:
This review is based on my impressions of the tenor-sized LU-T, but most of the information should apply to the smaller LU-C (concert) and LU-S (soprano) sizes
I purchased a new LU-T for this review on Amazon using my own funds. The ukulele in the pictures is the actual instrument I received
This review is part of a series on Amazon's top-selling ukuleles
Lohanu Ukulele Review Summary
My tenor-sized Lohanu LU-T is a nicely built ukulele that plays well and sounds great. After spending some time the uke, I feel it's a very good value and for the most part deserves its place as one of the top-ranked ukes for sale on Amazon.
Based on my hands-on impressions and the reviews of other customers, I think most players would be satisfied with a Lohanu. The good quality and low price point make it ideal for beginners who want a nice starter uke or seasoned players in search of a good backup or travel instrument.
What I Like
Fit and finish are great
Playability is good right out of the box
Sounds nice
Lifetime warranty and responsive, Canada-based customer service
Potential Drawbacks
Gig bag is just OK
Included plastic picks are pointless
Build Quality
The LU-T's construction is tight and clean. Fit, finish, and attention to detail are shockingly good considering the price of the uke. The uke's light satin finish is evenly applied, and looks/feels great. I couldn't find any glaring issues.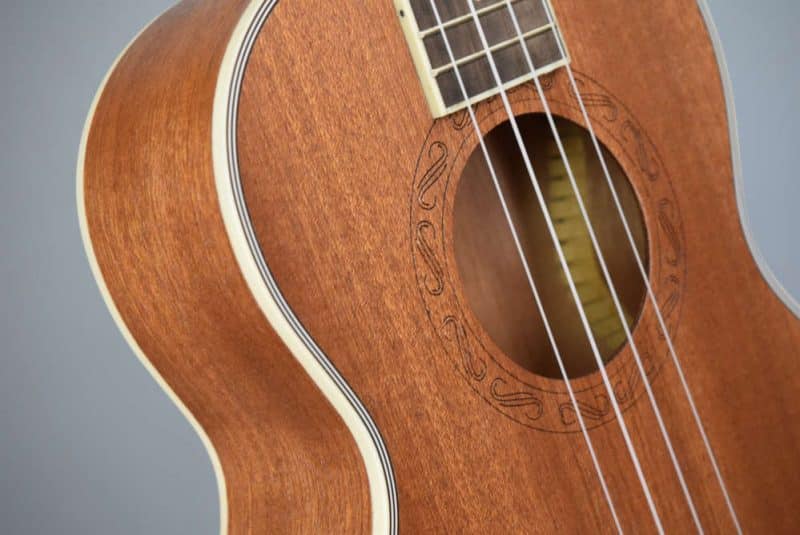 The quality of my Lohanu is much, much better than many of the super-cheap ukes I've tried over the years. It's incredible what a difference an extra $50 can make!
My only minor gripe is that a couple of my tuning machines had "tight" spots where I could feel a bit of resistance as I tuned up the uke. Not a dealbreaker by any means, but still worth mentioning.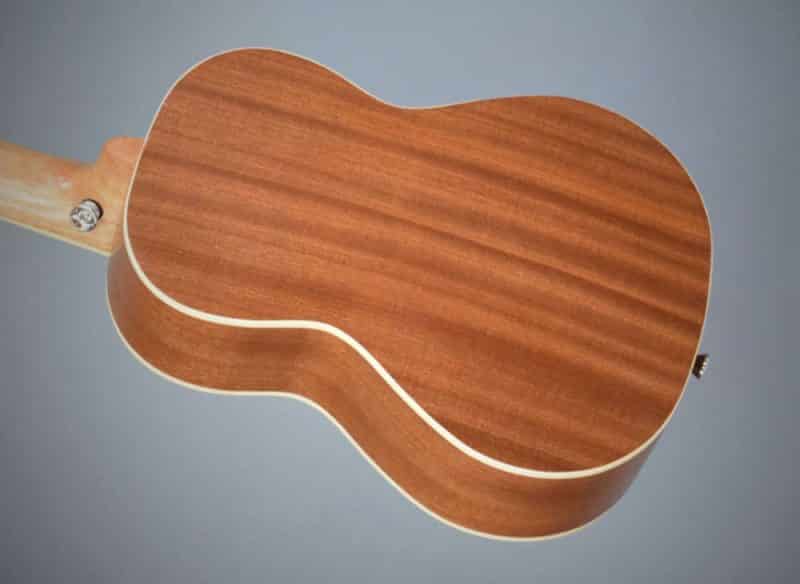 Some touches and features that jumped out at me:
Braceless arched back provides structural support while improving tone
The top, back, and neck are all bound, meaning they have a decorative white strip of material (probably plastic) running along the edges. This little feature gives the uke a bit more of a refined look and is something you don't always see on ukes in this price range
Nut and saddle appear to be made out of TUSQ, a composite material that simulates bone. TUSQ is harder and denser than the cheap plastic pieces used on many budget ukes, and it transfers more of the string's vibrational energy into the body of the uke for a better tone.
I liked the laser-engraved headstock logo and simple rosette. I also thought it was neat how the "label" inside the soundhole is actually a laser-engraved piece of wood.
Strap buttons come pre-installed. Many players don't use a strap so this isn't a huge deal, but if you ever decide to use a strap it's nice to have strap buttons already in place.
Tone
I really like the sound of my Lohanu. It's warm, sweet, and harp-like. I attribute this to its light, tight construction and minimal finish.
While it doesn't have the rich, resonant voice of a $1,000+ solid koa ukulele, it's not reasonable to expect that from a beginner ukulele. Considering the price, I have no complaints about how the LU-T sounds.
Playability
My Lohanu was comfortable to play right out of the box. The action (string height) was at a nice middle-of-the-road height, so it was easy to play without any fret buzz.
Frets were smooth and even. Notes rang out cleanly up and down the neck.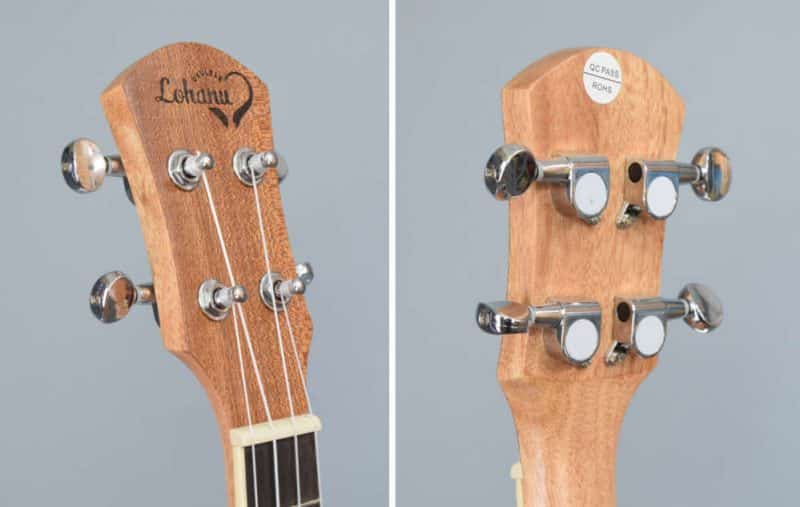 At some point I'll probably lower the action slightly at the nut by deepening the slots a bit, but that's just a personal preference.
Gig Bag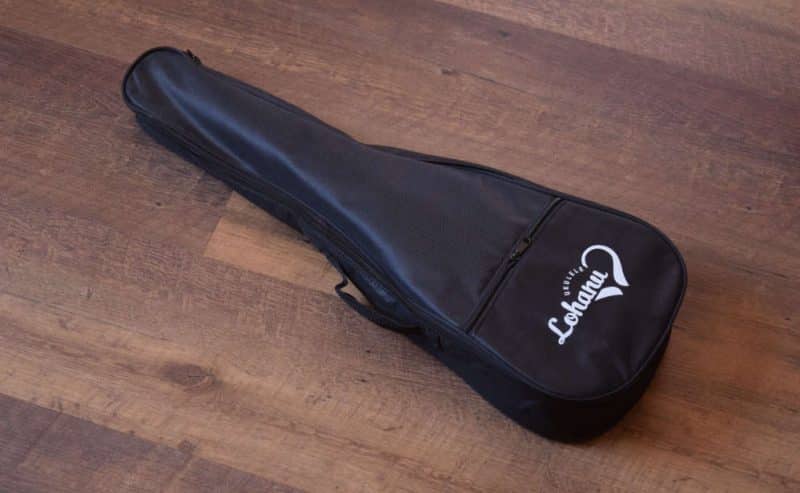 All Lohanu ukuleles include a padded gig bag with a pocket and a single shoulder strap.
The bag is well made but has minimal padding. It's certainly better than the wimpy fabric covers included with many cheaper ukes, but if you expect to do any major traveling you might want to invest in a heavy-duty bag or hard case).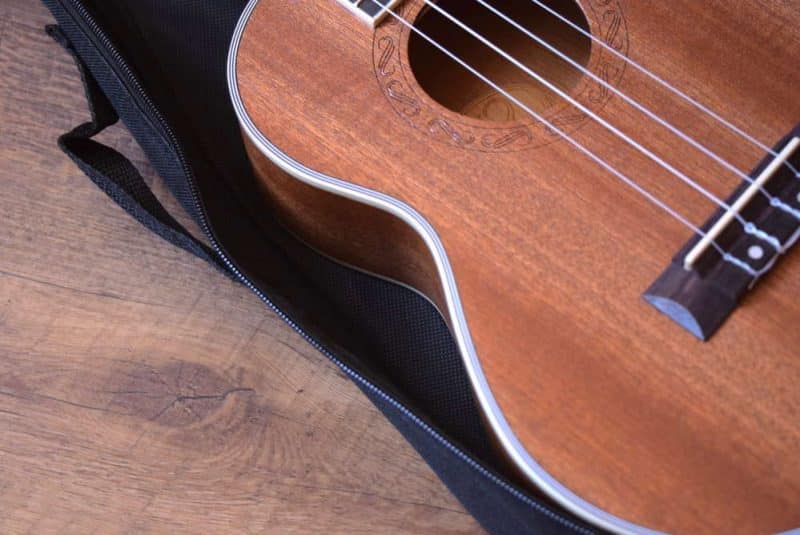 Accessories & Extras
Lohanu's ukuleles all come with a handful of accessories, including a strap, extra strings, a tuner, and some picks.
The strap is simple but well made. As I said before, many uke players don't use a strap, but it's still nice to have the option.
The extra set of Aquila Nylgut strings is a nice add-on because at some point you'll need to change strings. I also think Aquilas are some of the best strings you can get. My one complaint is that the strings aren't marked with tags or color coding, which might make things a little harder when it comes time to install them.
The digital clip-on tuner is easy to use and works well. A battery is included.
The plastic picks are a little silly since almost nobody uses this kind of pick on a ukulele. A felt pick would have made more sense, but most people just use their fingers (which is what I suggest doing).
Customer Service & Lifetime Warranty
As I mentioned earlier, Lohanu has an excellent record when it comes to customer service. The Canadian-based company seems legitimately committed to making every customer happy, especially in situations where a ukulele is shipped with problems or defects.
All Lohanu ukuleles have a lifetime warranty against issues related to craftsmanship and materials. There isn't a whole lot that can go wrong with a basic uke in this price range, but it's nice to know you're protected if something were to happen down the road.
Lohanu Ukulele Customer Reviews and Pricing