Looking for the best concert ukulele under $100? I've rounded up my six favorite concert ukes that are available for less than a hundred bucks.
These are concert ukuleles that I feel offer a great value for less than $100. Most of these ukes have been in my personal collection at some point in time, so I'm speaking from experience!
Concert ukuleles under $100 covered in this article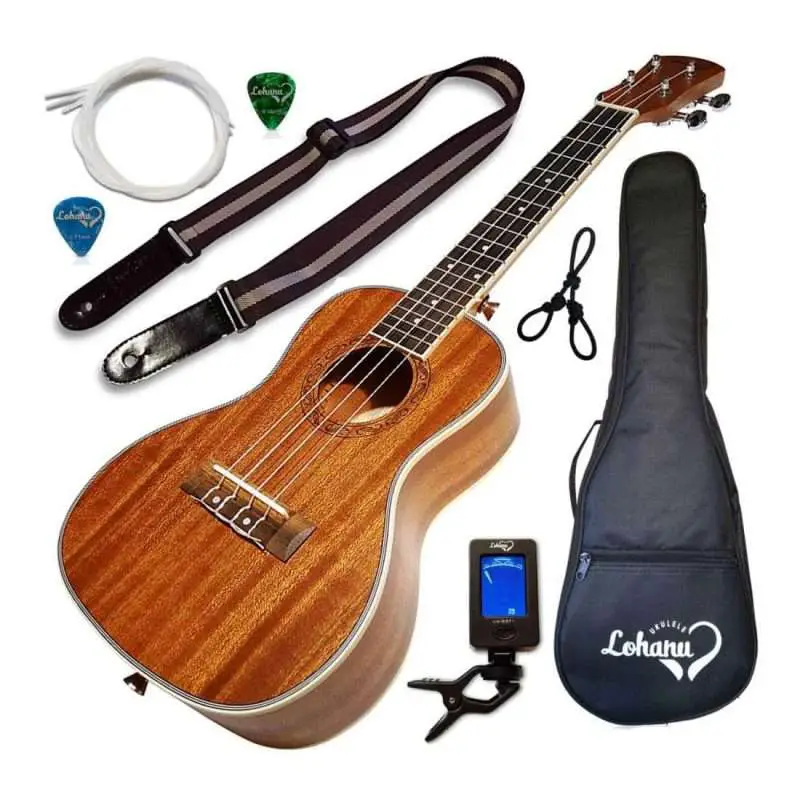 With literally thousands of five-star reviews and stellar customer service, the Lohanu LU-C a safe bet for anybody searching for a great concert ukulele under $100.
Lohanu's line of affordable beginner ukuleles are some of the best-selling and most highly rated ukuleles available on Amazon. I've reviewed a Lohanu ukulele and was very impressed with the quality of the construction as well as its playability and tone.
One of the reasons Lohanu ukes are so highly reviewed is their fantastic customer service. With ukes in this price range there are always going to be occasional issues and defects that aren't caught at the factory. This is why having a lenient return policy and excellent customer service are crucial, especially when ordering online.
Thankfully, Lohanu has gone out of their way to ensure that every customer is 100% satisfied.
Lohano's LU-C concert ukulele bundle also includes a gig bag, tuner, extra strings, strap, and picks.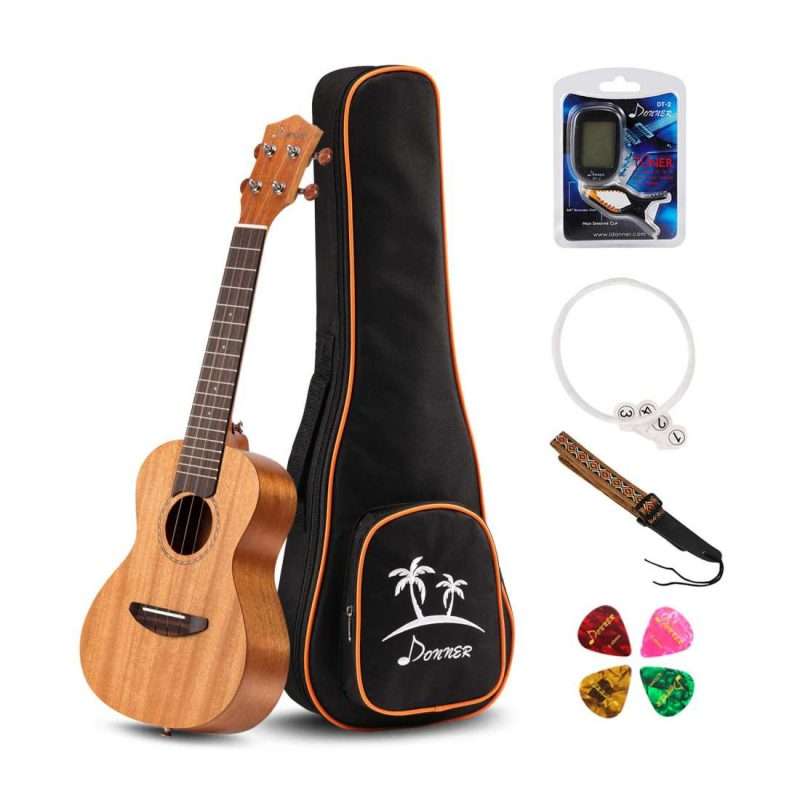 In my review of the Donner DUC-1 concert ukulele, I comment on its tight, clean construction and understated cosmetics. I also felt like it played very well and sounded just as good as some of the more expensive ukuleles from other manufacturers.
The DUC-1 concert ukulele bundle is currently available for well under $100. In my opinion it's one of the best uke deals available right now.
The bundle includes a decent gig bag, clip-on tuner, strings, and picks.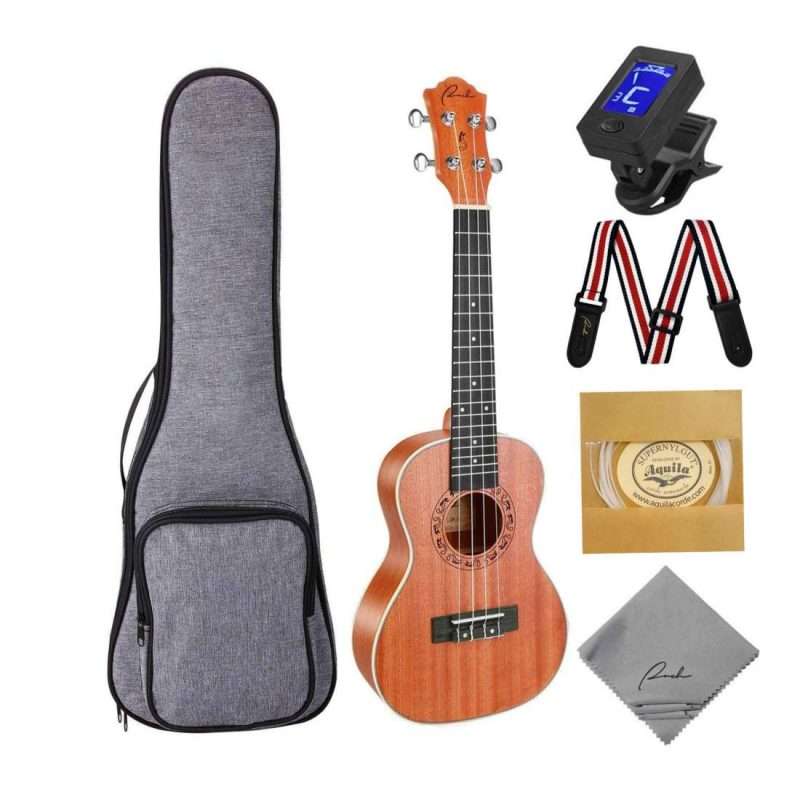 In the interest of full disclosure, I haven't personally played the Ranch UK-23 ukulele yet. While I do my best to purchase and play every uke I recommend on this site, this model wasn't on my radar when I bought a round of ukuleles from Amazon for review.
With the disclaimer out of the way, I still feel like it's fair to include this ukulele on my list of the best concert ukuleles for under $100 due to its quick rise in ranking on Amazon and stellar reviews. People who bought the UK-23 seem to be impressed with the overall build quality, ease of play, and tone.
Like most of the other ukes in this list, the UK-23 comes with some nice accessories including a gig bag, extra strings, strap, and tuner.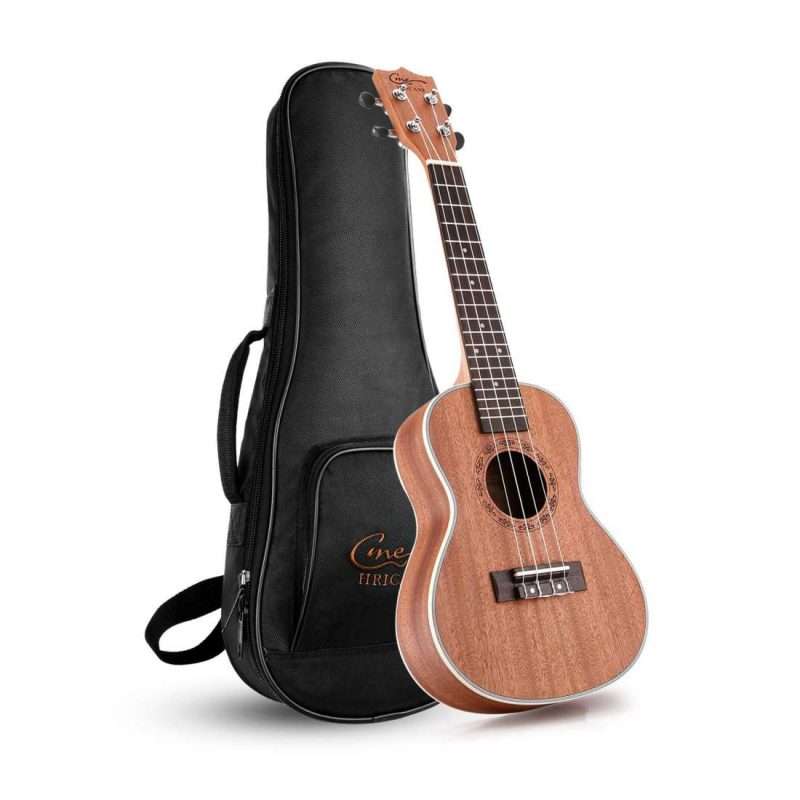 I purchase a Hricane ukulele for review a while back (the review is coming soon!) and was immediately impressed with the overall build quality and craftsmanship. I'm continually amazed at the level of quality you can get in a concert uke for under $100.
The UKS-2 is nice and light, which is a good thing in the world of acoustic instruments since it means the ukulele can resonate more freely and openly. My Hricane uke has a warm, harp-like tone and plays very well without any adjustments.
While the Hricane UKS-2 doesn't include the same accessories as some of the other concert ukes I cover in this list, it does have a great gig bag that's thicker and more heavy-duty than anything I've seen across so far.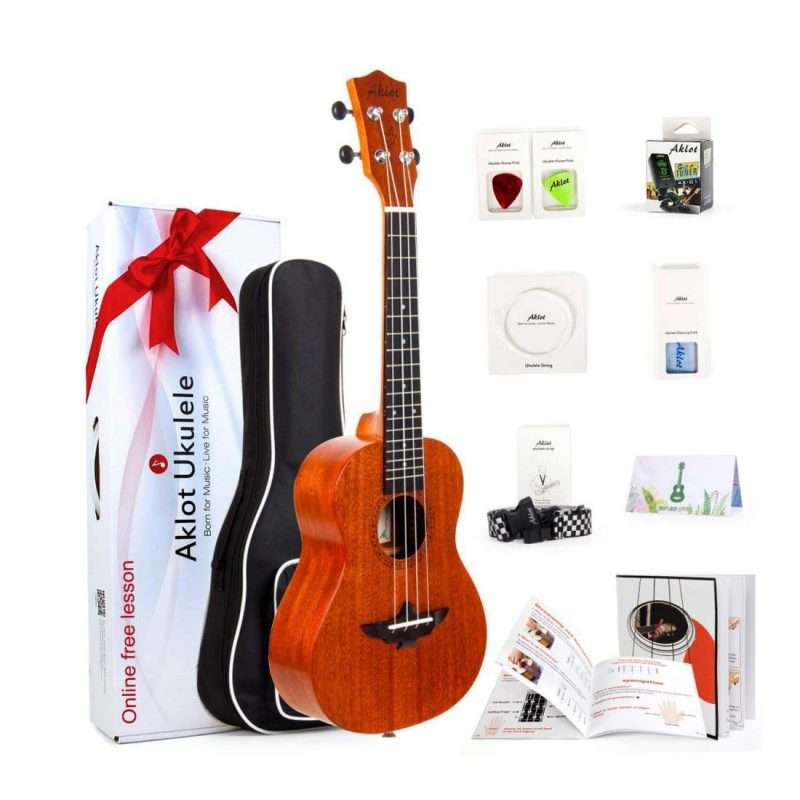 One thing that distinguishes the Aklot AKC23 from the other best concert ukes under $100 is that this model is made entirely of solid wood.
Most ukuleles in the sub-$100 price range are made entirely out of laminated wood. This is cheaper from a manufacturing standpoint but the trade-off is that laminated wood generally doesn't sound as good as solid wood.
I own the AKT26, which is the tenor version of the concert-sized AKC23 (review in progress). I initially thought it would be impossible to make a decent all-solid ukulele at this price point, but once I had it in my hands I couldn't deny that it was a great uke for the money.
Now, if I'm being honest I'm can't say for sure that it sounded dramatically better than the other concert ukes I've tried for under $100, but it definitely sounded great. Plus, the build quality was excellent (although I personally didn't care for the bird-shaped bridge).
Aklot also manages to include a few nice extras with their AKC23 bundle, including a digital tuner, extra strings, strap, and beginning ukulele guide book.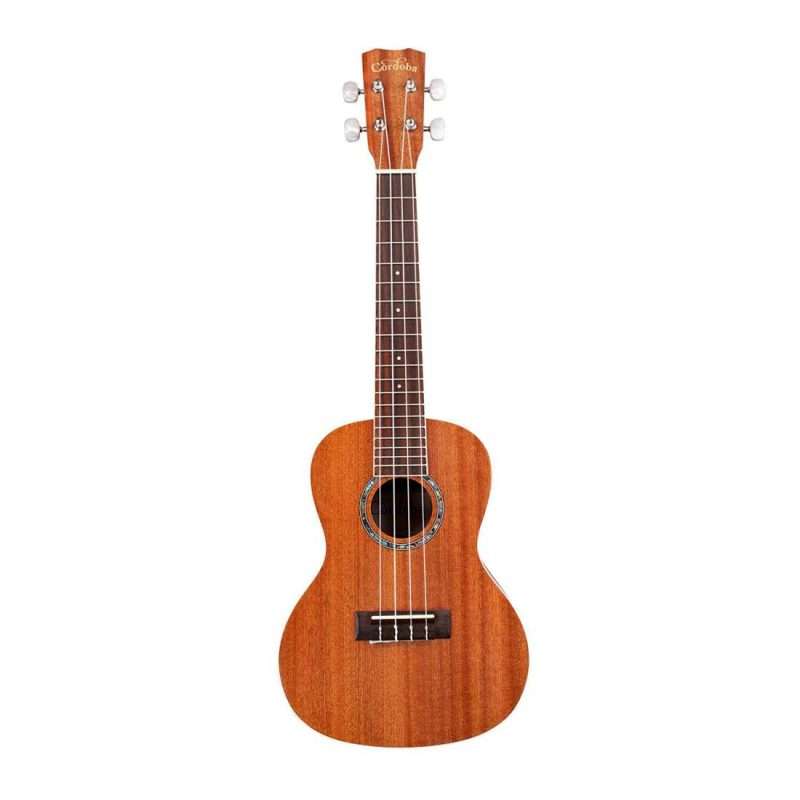 The concert-sized Cordoba 15CM just barely squeezes in under the $100 mark, and it's currently the most expensive of all the ukes on this list.
Cordoba is probably best known for their line of affordable classical guitars, but they make a pretty nice ukulele as well. The 15CM has some neat cosmetic features that might appeal to some players, like the faux pearl rosette and the bound body and fingerboard.
In terms of craftsmanship, the Cordoba 15CM isn't really any better or worse than the other models I've discussed so far. It plays well and sounds good, and the build quality on the one I own is crisp and sharp.
It's worth pointing out that the 15CM doesn't include a gig bag or any accessories. If you want a concert uke that's a little more ornate then the 15CM is worth a look, but if you're trying to maximize what you get for your money I'd steer you towards the other ukes on this list.
Buying Tips for Concert Ukes Under $100
I know it's tempting to save a few bucks, but the quality of these instruments is usually much lower than the slightly more expensive ukes I've covered in this article. This is something that's not easy to see from tiny pictures on the internet!
A concert ukulele under $100 probably won't be flawless!
While I'm really impressed with the quality of ukes available in this price range, it's not realistic to expect that they will be 100% perfect.
You may find a bit of glue squeeze-out on the inside or tiny finish imperfections. I've seen some reviewers complain about these tiny little issues, but it's not unusual to see this sort of thing on beginner-level instruments.
Don't obsess over finding the perfect uke
One thing that I've discovered is that most concert ukes under $100 are pretty good! If a ukulele has hundreds of great reviews on Amazon, it's probably a good enough instrument for beginners.
All the ukes I've ordered in the $50 to $100 price range have been pretty close in quality. It's not like one has jumped out as being the clear winner or loser. Sure, I might personally prefer the look or sound of certain models, but overall these entry-level ukes have been surprisingly great!
My advice is not to spend days or weeks trying to find the "best" concert ukulele in this price range. Pick one that you like, order it, and start playing!