Finding the best baritone ukulele can be tricky.
Many ukulele manufacturers only offer a limited selection of baritone models. This means there aren't as many bari uke options when compared to other, more common ukulele sizes.
Luckily, there are still a lot of good baritone ukuleles for the money for sale online. Here's a list of my picks for the eight best baritone ukuleles.
My picks for the best baritone ukulele
Here's a summary of all the baritone ukes I discuss in this article. I go into more detail on each model below.
Kmise is one of the more popular ukulele brands on Amazon, so it's no surprise that their baritone ukulele makes this list. The company has a reputation for building high-quality ukuleles at a reasonable price.
Customers frequently comment on the clean craftsmanship, good playability (action), and warm, rich tone. For the money, this is a tough uke to beat!
The pictured Okoume model has a binding design similar to the rope binding often found on older Hawaiian ukuleles. This gives the Okoume a bit of a vintage vibe that I'm a big fan of.
I also like the slotted headstock–I think it looks pretty cool, even if it doesn't do anything for the tone (in my opinion).
If you want something a little more simple, Kmise also offers a "natural" version of this model with minimal cosmetic features.
The Okoume and natural versions of this model both include a padded gig bag, strap, and picks. (But the picks aren't all that useful since most people play a baritone uke with their fingers).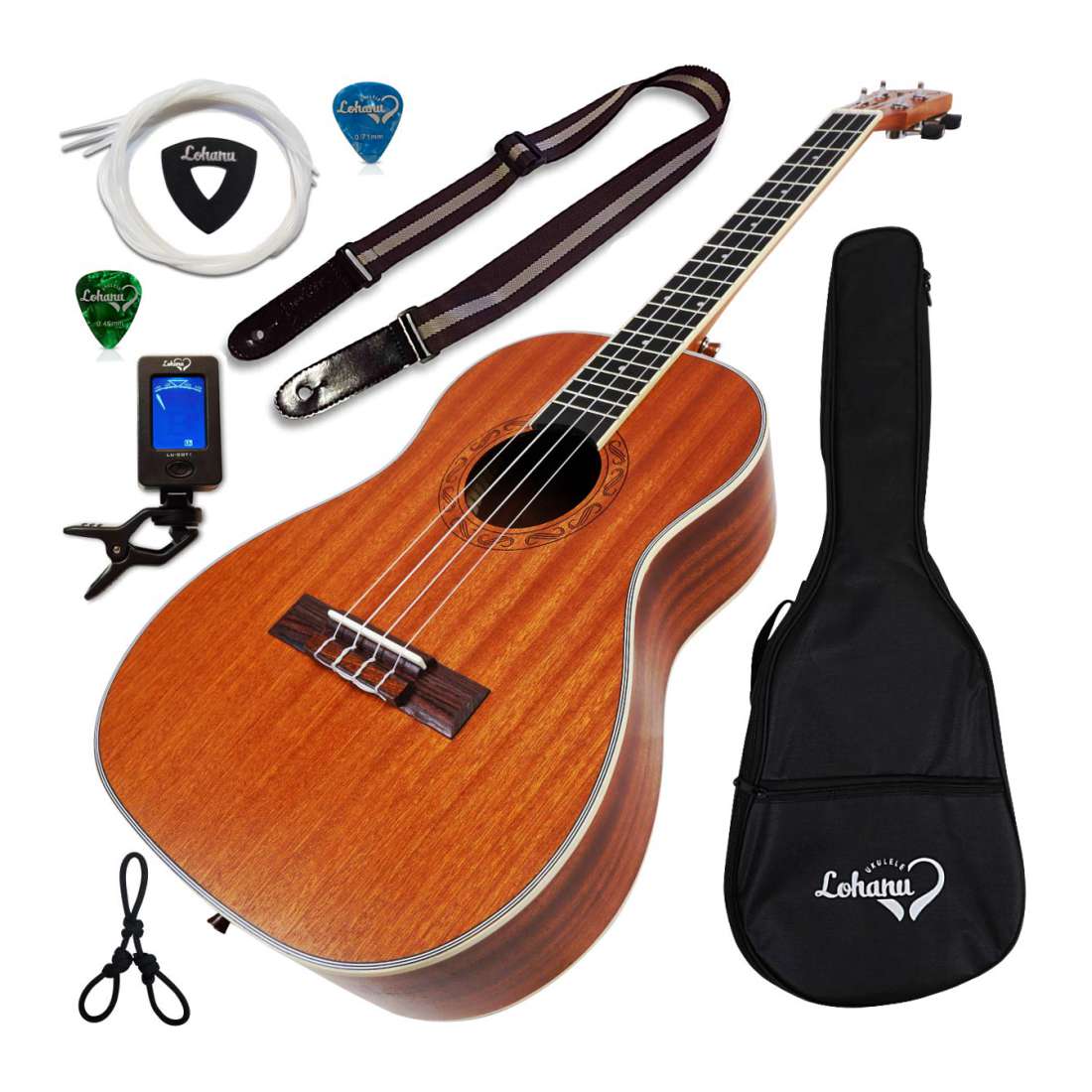 The LU-B baritone ukulele is a new offering from Lohanu, which is one of the top-selling ukulele brands on Amazon.
Don't let the low review count scare you away. One look at the reviews on Lohanu's other ukuleles should set your mind at ease thanks to thousands of stellar 5-star reviews.
I have personally owned an LU-T tenor size Lohanu ukulele and felt it was an amazing value for the money. Fit and finish were excellent, especially considering the price. Playability was good right out of the box, and the tone was open and rich.
I have no doubt that in time, the LU-B will easily move to the top of the list as one of the best baritone ukuleles on the market.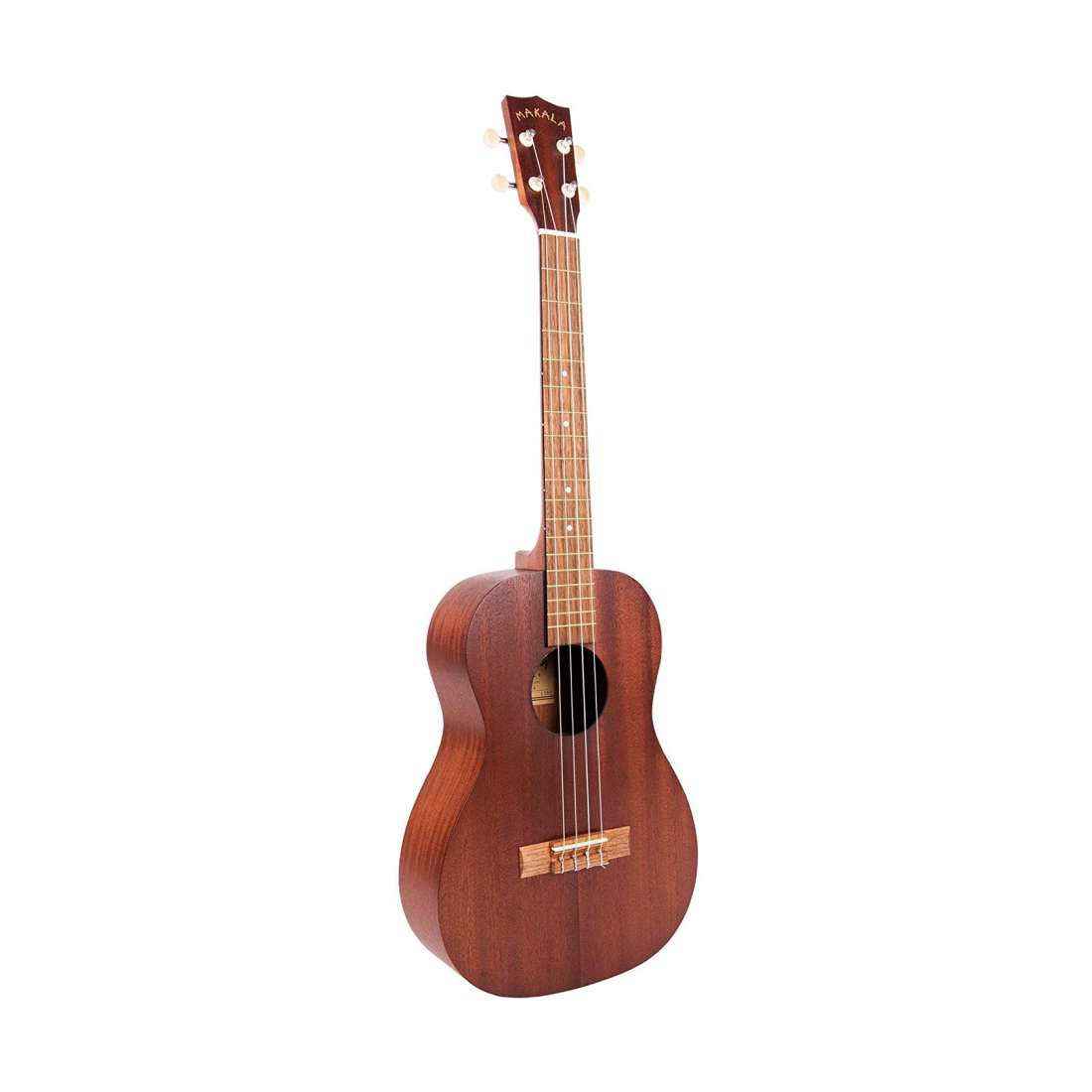 Kala is one of the oldest manufacturers of high-quality beginner ukuleles, and Makala is their budget line.
The Makala MK-B features a stripped-down feature set that allows Kala to offer a high-quality instrument at a reasonable price. It's not fancy, but it's still one of the best baritone ukes around.
If you want a well-made baritone from an established company at a good price, the MK-B is certainly worth a look.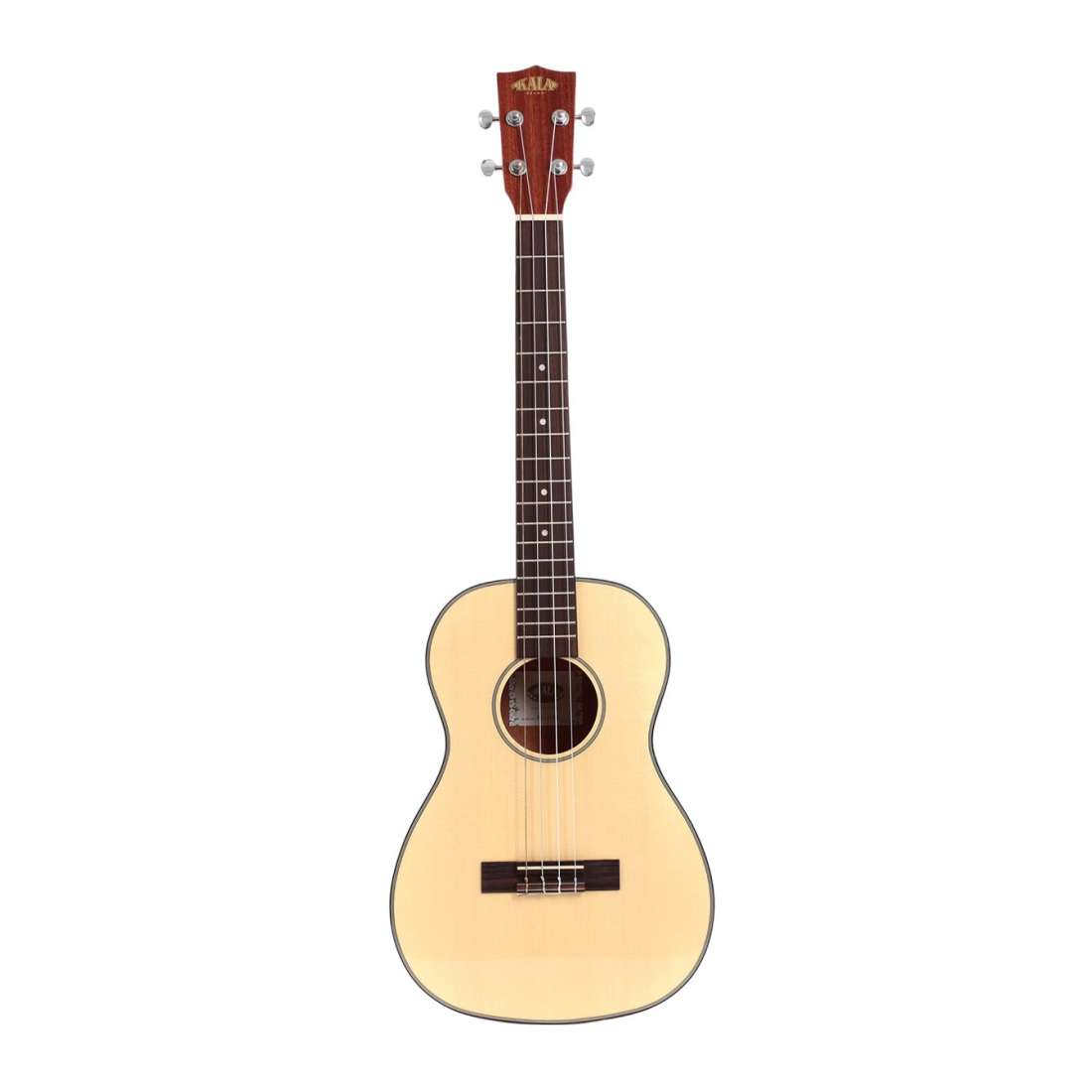 The KA-SBG is Kala's most affordable baritone ukulele with a solid top. As a general rule, ukuleles with a solid top tend to have a warmer, fuller tone than ukes made with laminated wood. The trade-off is that solid wood is more expensive.
As I mentioned above, Kala is a well-established company with a solid reputation. The KA-SBG is a safe bet for players seeking the next step up from an all-laminated baritone ukulele.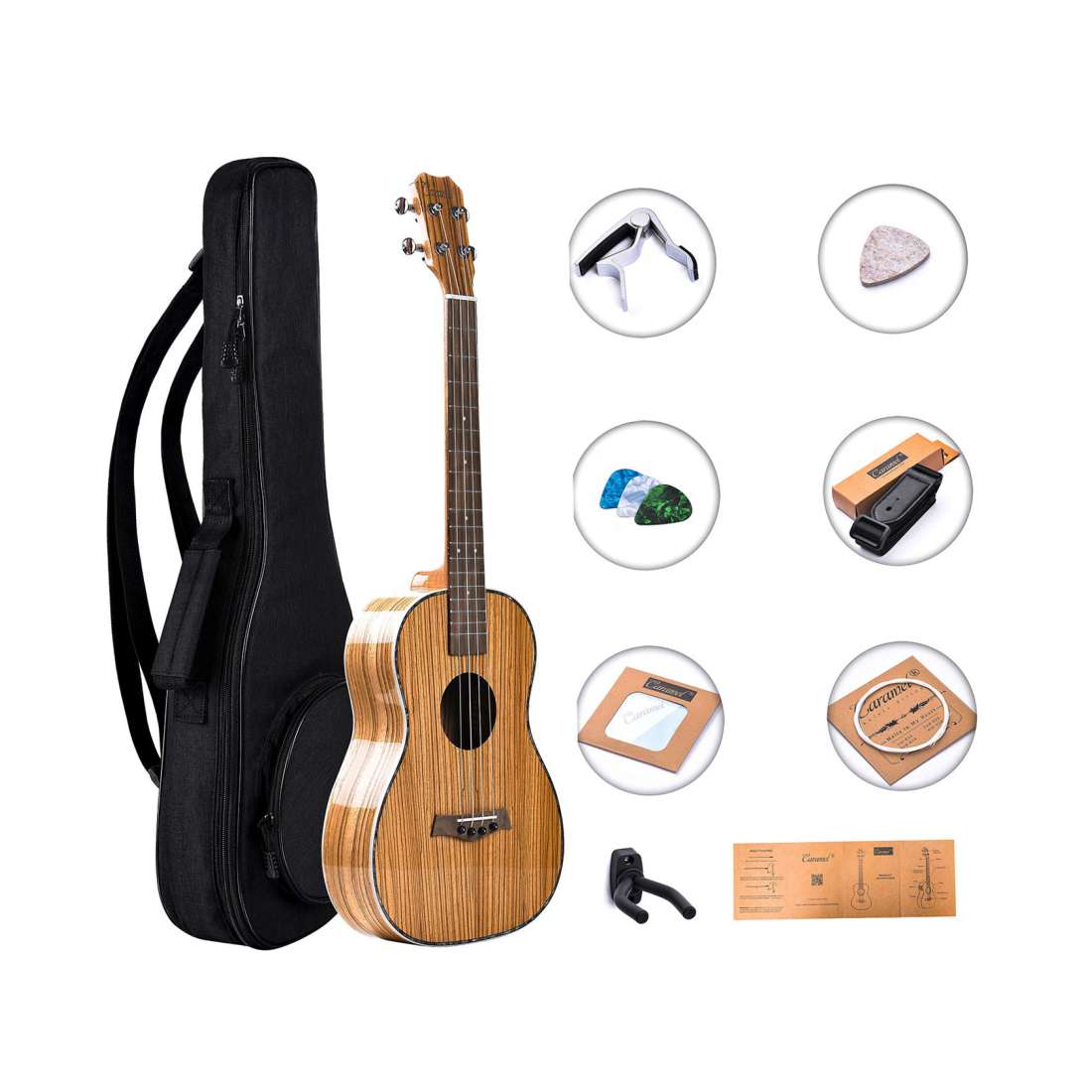 I'm not personally familiar with the Caramel brand and haven't played any of their ukes yet. But I thought this one was too cool to leave off the list (plus, it has very good customer reviews).
This CB103A is made out of laminated zebrawood, an exotic tonewood with a distinct striped grain pattern. It's the perfect choice for players looking for something that stands out from the pack a bit.
The CB103A bundle comes with a gig bag, strap, extra strings, felt pick, and a wall hanger. It's also available in an acoustic-electric version.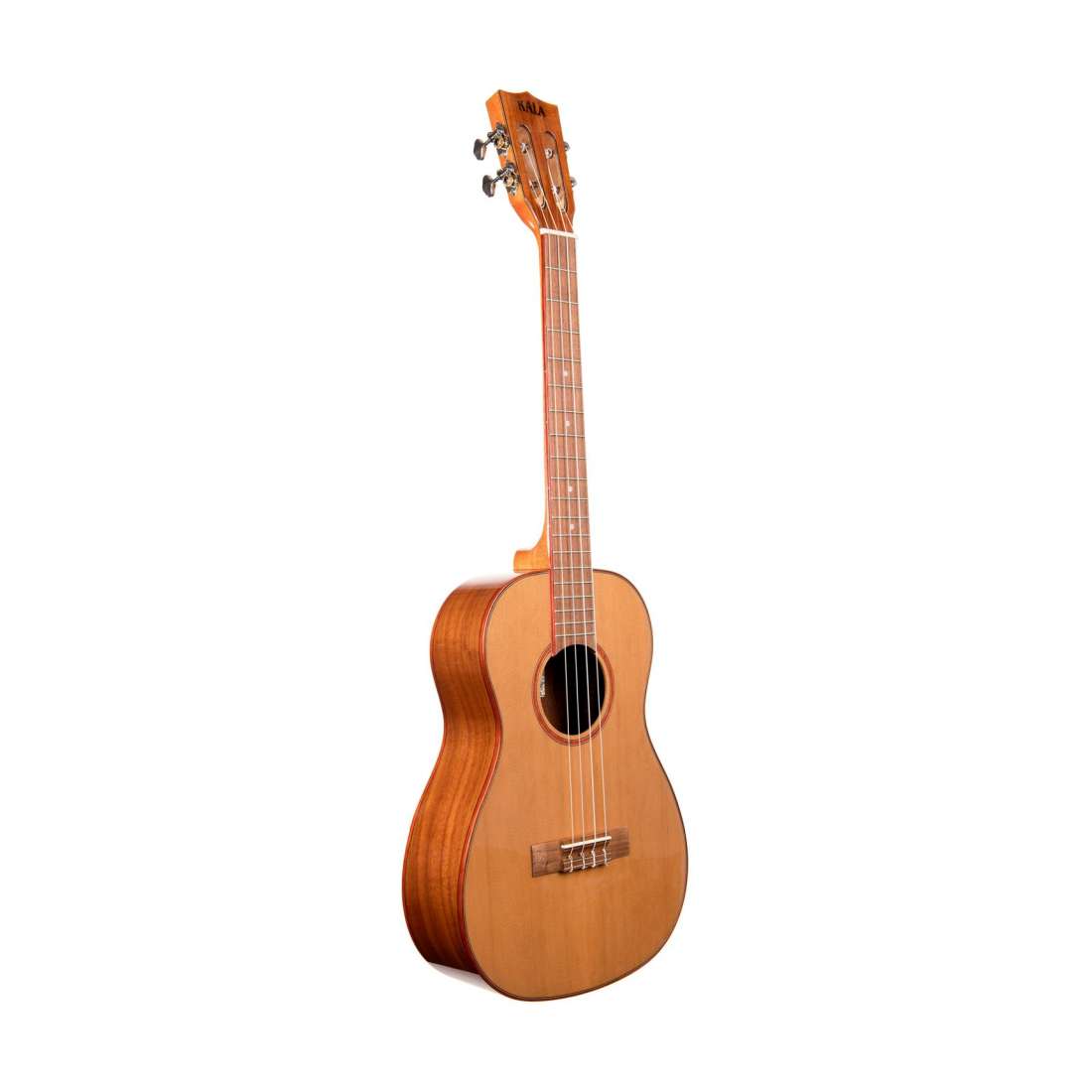 The KA-ABP-CTG is another solid-top ukulele from Kala. This model features a solid cedar top with laminated acacia back and sides.
Cedar tends to have a warmer, richer tone that isn't as bright and punchy as the Sitka spruce often found on acoustic instruments. Acacia is in the same family as koa, a highly figured wood that has been used in ukuleles for decades.
The KA-ABP-CTG is probably pushing the limits of what most beginners might want to pay. But if you want something a little more unique and you've got a bigger budget, this is one of the best baritone ukuleles in this price range.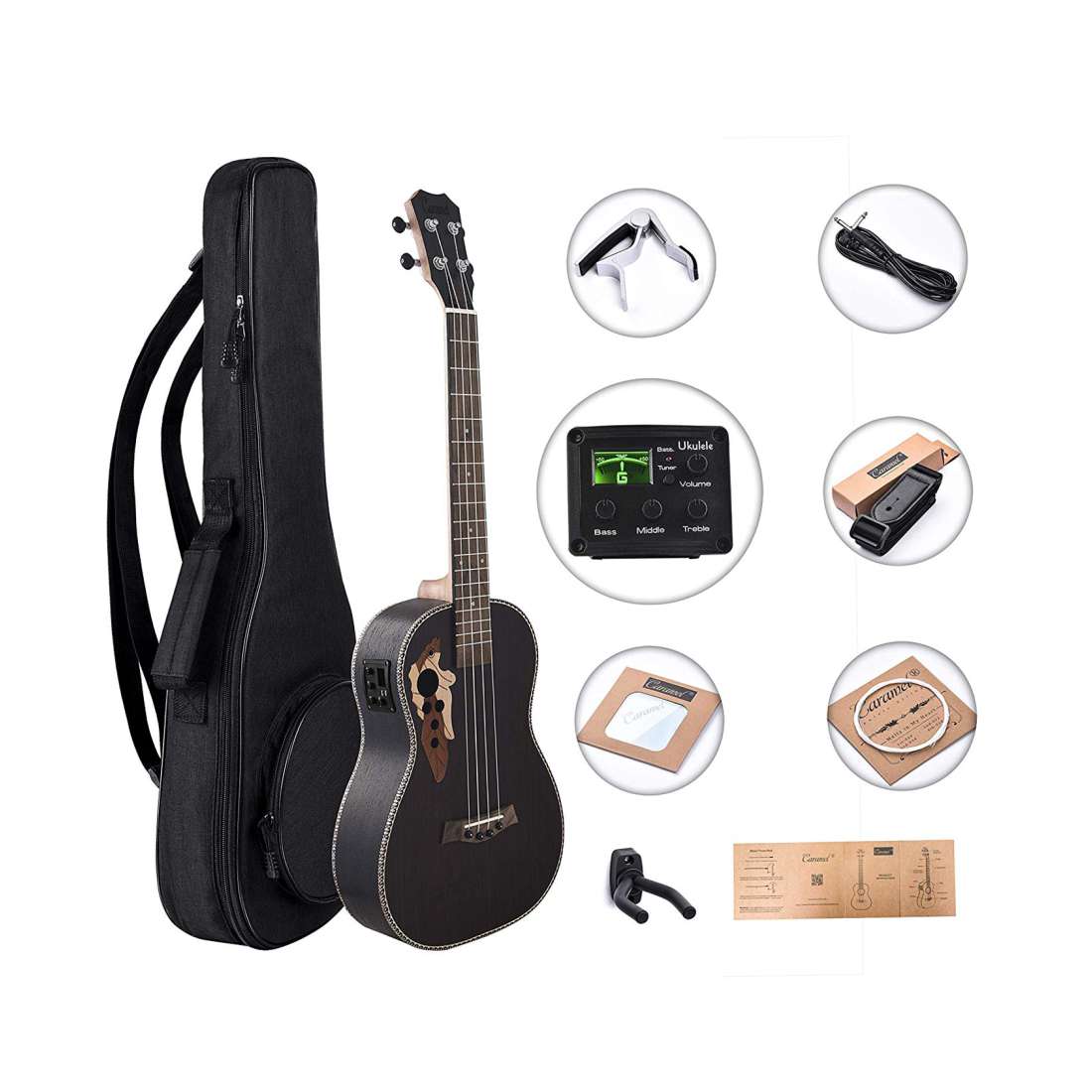 Caramel produces some of the more exotic baritone ukulele designs you'll find online, and the CB500 is a perfect example of that.
The body is made entirely with rosewood (laminated), the binding is some sort of interesting marquetry inlay, and the soundhole is actually a series of soundholes set in the upper bout.
This particular version of the CB500 includes electronics, but it's also offered as an all-acoustic model.
The wild design won't be everybody's cup of tea, and some of the other baritone ukuleles on this list are arguably a better value. However, the CB500 offers a unique look in an affordable, stage-ready package, so it's a good choice for certain players.
At the time of writing the oddly-named Sawtooth ST-UKE-MB-KIT-1 is the most affordable baritone ukulele on the list.
Normally I'd be wary of any bari uke priced this low, but the positive customer reviews seem to speak for themselves. Plus, this is a pretty bare-bones package. It doesn't include a gig bag or accessories, so you're pretty much just paying for the uke and nothing else.
This model would be a good option for players who don't need or want a bag and already have a clip-on tuner and other accessories.