What's the best tenor ukulele? The answer depends on your budget, skill level, and personal preferences. Luckily, there's no shortage of great tenor uke options available for you to choose from.
Those shopping for the best beginner tenor ukulele will want to check out the entry-level models covered first. Seasoned players and people with a bigger budget should consider the higher-end offerings from brands like Martin and Kamaka.
I've owned or played ukes from all of the brands listed below, so my recommendations are based on personal experiences.
Best Tenor Ukuleles
If you just want to see my top picks, check out the table below. They're all great beginner tenor ukes at a good price and it would be tough to go wrong with any of them.
If you're looking for more detailed information or are in the market for a mid-level or high-end uke, keep reading.
Lohanu LU-T Tenor Ukulele Bundle
The Lohanu LU-T tenor ukulele is the highest-rated tenor uke on Amazon. It's part of a bundle that includes a gig bag (soft padded case), tuner, and strap. It's a good deal, in my opinion.
The craftsmanship on Lohanu ukuleles is surprisingly tight and clean considering their budget-friendly price. My LU-T has excellent playability and a warm, open tone.
The LU-T has over 2,500 reviews, nearly all of them overwhelmingly positive. The company is based out of Canada and people rave about the customer service and support, which includes an unconditional lifetime warranty.
Hricane UKS-3 Ukulele w/ Gig Bag
The Hricane UKS-3 is arguably the best tenor uke for budget-conscious shoppers.
This model includes a few upgrades you don't normally find with instruments in this price range.  These features include a bound top and back, laser-etched rosette, and padded gig bag.
Kala "Makala" MK-T Tenor Bundle
The Makala brand is Kala's budget line of ukes. The Makala series have a few minor changes to hardware, materials, and cosmetic features. This enables Kala to offer them at a slightly lower price than their standard Kala models.
Despite the more budget-friendly package, the Makala MK-T still offers great tone, quality, and playability.
Donner DUT-1 Tenor Ukulele Package
The Donner DUT-1 tenor uke offers a distinct look, with a unique D-shape bridge, rope rosette, and offset fingerboard extension.
Of course, these cosmetic features wouldn't matter if the DUT-1 wasn't any good. Fortunately, it has great reviews on tone, playability, and build quality.
The DUT-1 is sold as a package that includes a gig bag, tuner, and strap.
Other Good Tenor Ukuleles
The models I covered above are all great beginner tenor ukuleles and are safe bets for any first-time player. Of course, there are a lot of other good tenor uke options out there. Here are a few of my favorites.
Kala KA-SMHT (Solid Mahogany)
For folks who have a slightly higher budget, the KA-SMHT is the natural next step up.
The KA-SMHT is Kala's most affordable all-solid wood tenor ukulele. Why does solid wood matter? As a general rule, solid wood instruments have a warmer, richer, sweeter tone than similar models built with laminated wood. The trade-off is that solid wood ukes are substantially more expensive.
A quality laminated uke can sound great, solid wood is worth considering for players seeking something a couple notches up the ladder.
Cordoba 15TM
Cordoba's 15TM has a bound fingerboard and abalone rosette. These additional cosmetic features make this uke a bit more stylish than other models in this price range.
I've played a few 15TMs and they've been consistently well-made, comfortable to play, and great-sounding.
Luna "Tattoo Tenor" Ukulele
Luna's "Tattoo" series of ukuleles feature a unique laser-etched Polynesian tattoo design.
The engraving might not be everybody's cup of tea, but the Luna ukes I've sampled have been good, solid instruments. If you're interested in something a little different, the Tattoo ukes are worth considering.
Best Mid-Range and High-End Tenor Ukuleles
The next logical step up is into the realm of all-solid wood ukuleles from top-tier builders like Martin and Kamaka.
Ukes from these builders are much more expensive than the beginner models listed above. However, they offer superior craftsmanship, playability, and tone.
Martin T1K
Martin's all-solid koa T1K tenor is a nice choice if you want for something a little nicer than a beginner ukulele.

Martin has been around since 1833 and has developed a legendary reputation for quality and craftsmanship. While they're mostly known for building guitars, they also produce some of the finest ukuleles money can buy.
It isn't exactly cheap (the sticker price is over $500) but the T1K is still Martin's most affordable tenor uke. It's made in their Mexico plant and is an excellent mid-point between entry-level Asian imports and high-end American-made models.
The T1K is fairly plain and doesn't have a lot of cosmetic bells and whistles. However, the T1K's excellent craftsmanship, playability, and tone make it one of the best tenor uke options on the market. If it's within your budget and you're serious about the ukulele, it's well worth the investment.
Kala Elite USA 1KOA-T
Many folks don't realize that Kala has a high-end line of ukuleles made in the USA: The Kala Elite USA Series
As far as I know, these are the only US-made tenor ukuleles available for under $1000.
I've been lucky enough to play the 1KOA-T and the slightly fancier 2KOA-TG. Both ukes were beautifully crafted and had excellent playability. But more importantly, they sounded amazing, with a warm, harp-like tone that rivaled other high-end ukes I've ever played.
Kala's Elite series doesn't quite have the name brand recognition of Martin or Kamaka (yet). But I think they're an incredible value and should be on the short list of anybody looking for an upgrade.
Kamaka HF-3
Kamaka is the oldest Hawaiian ukulele manufacturer around. In fact, they celebrated their 100th anniversary in 2016.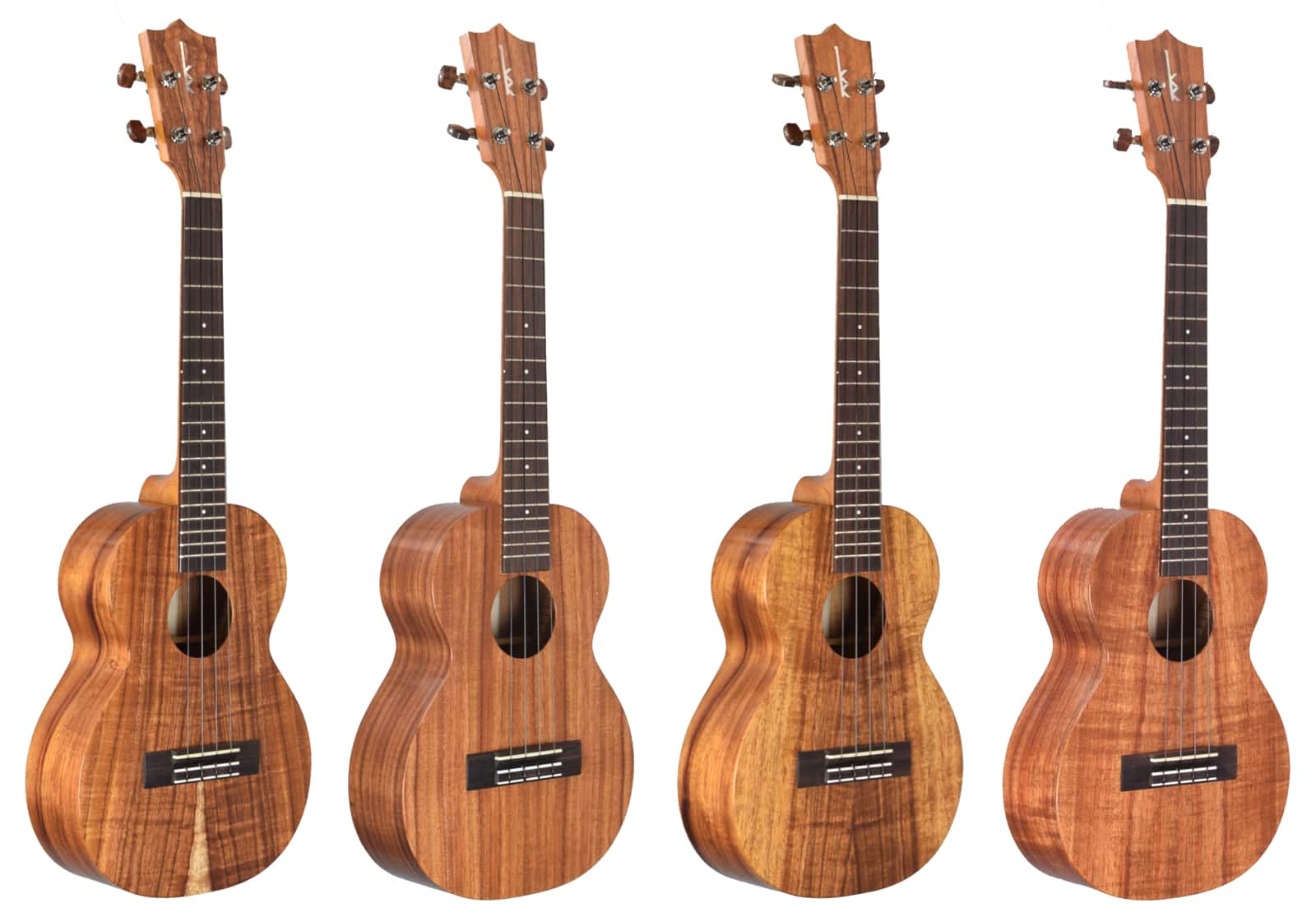 The company's rich history, classic designs, and top-notch craftsmanship have made Martin ukespopular with uke players from around the world.
The HF-3 is Kamaka's standard tenor ukulele. It features a solid koa body and neck, high-quality tuners, and a beautiful glossy nitrocellulose finish.
As you can see from the image above, the koa varies wildly and gives each uke its own unique look.
Kamaka also offers a couple more ornate tenor ukuleles like the HF-3 D (Deluxe) and HF-3 D2I (Deluxe 2 with slotted headstock).
Kamaka ukes are only sold through a small network of authorized dealers.