My goal with this article was to find and review the best ukulele amps around. I'll start with the less expensive amps and move up to high quality, performance-grade models. Let's get right into it!
A quick note: Most of these amps are marketed as guitar amps or PA systems–don't let this confuse you! They all use the same input as your
acoustic-electric uke
, so you won't have any problems plugging in.
Danelectro N-10 Honeytone Mini Amp
The Danelectro Honeytone N-10 amp is great for messing around at home or boosting your volume in a casual jam session. It's a fun little amp, but it's not really designed to be used in a serious performance setting.
The N-10 has an overdrive feature designed for use with electric guitars. This can create interesting effects with a uke, but most folks will probably play "clean" (without any distortion).
The unit features a 1/4″ input for a standard instrument cable and a 3.5mm jack for headphones.
Fender Frontman 10G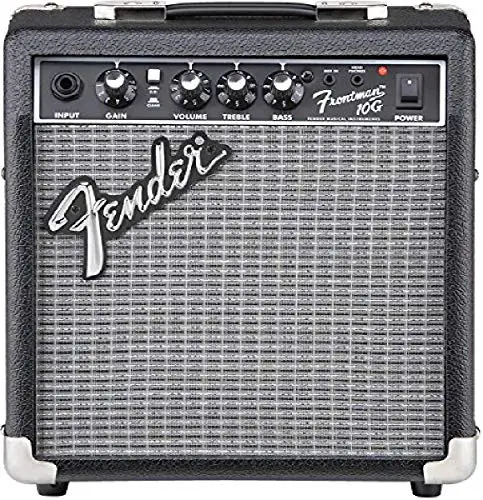 Fender Frontman 10G
10 Watts
1-6" Fender Special Design Speaker
One Channel
Controls: Gain, Over-Drive Select Switch, Volume, Treble, Bass
Other Features: 1/4" Instrument Input, 2-Band EQ, 1/8" Auxiliary Input Jack for Jam-Along with Media Player or CD, 1/8" Headphone Output Jack for Silent Practice, Closed-Back Design for Heavier Bass Response
The Fender Frontman is a good choice for budget-conscious players who want a simple ukulele amp for practicing or playing in small groups. It does a nice job of bridging the gap between cheaper "just for fun" novelty amps and the more serious amps I cover below.
While the Frontman won't provide the loud volume and rich bass of a professional-grade amp, it does have a full, clean tone that's more robust than some of its cheaper competitors.
The Frontman's 10 watts of power is relatively low in the world of amps, which is why it's categorized as a practice amp. This means that it's probably not going to be sufficient for serious performance settings where you expect more than a small group of people.
The variety of inputs mean you can play with headphones or plug in your phone to strum along with your favorite songs.
Behringer Ultracoustic AT108 and Fender Acoustasonic 15
At around $100 each, the Behringer Ultracoustic AT108 and Fender Acoustasonic 15 are both very good mid-level ukulele amps for the money.
These amps are designed specifically for acoustic instruments in order to provide a more crisp, pure, natural tone. They're great for practice sessions but also offer just enough power to be viable in intimate performance settings like a living room or mellow coffee shop.
The Berhringer pumps out five more watts than the Fender, but that's about the only practical difference. Their XLR inputs allow for the use of high-quality microphones, and additional inputs for headphones and external sources (like an MP3 or CD player) provide a lot of versatility during practice or recording sessions.
These ukulele amps won't pump out the volume and bass offered by some of the more professional models below, but they're tough to beat for the price.
Yamaha THR5A
While the Yamaha THR5A is around twice the price of the Behringer AT108 reviewed above, it has a handful of extras that may make it worth the extra money for players seeking a more feature-rich amplifier.
At 10 watts, the THR5A still falls into the category of practice amps, but it does offer a few interesting features and a slick retro form factor.
The assortment of effects (conveniently mapped to just two knobs) offers a variety of ways to fatten up your sound with reverbs, delays, and more. The built-in tuner is a nice addition, although I still prefer my Snark tuner to anything else.
An array of microphone "models" let players simulate the sound and characteristics of five professional-grade microphones. I think it's a great way to capture the warm, rich tone of a microphone while eliminating a mic's inherent issues like feedback and the need to maintain a consistent distance.
A USB port allows you to plug directly into your computer, meaning that the THR5A doubles as a recording interface. You can use the included Cubase AI software or popular free programs like GarageBand.
Powerwerks PW50 and Alto Professional Trouper
The Powerwerks PW50 and Alto Professional Trouper are both PA (public address) systems. PA systems are designed to handle a variety of instruments and vocals, while amps are usually geared towards a specific instrument.
These PA systems have substantially more power than the amps I've reviewed above, making them great for solo or duet gigs and situations where you plan to have more than one instrument plugged in.
The models listed above are good entry-level PA systems that would work well for most small venues. If you're just playing the occasional open mic night or coffee shop, the PW50's 50 watts will probably be enough; those performing for larger audiences should look at the 200-watt Trouper.
Both models feature multiple inputs with individual EQs, making it easy to dial in your sound. An AUX input lets you play a backing track of your computer or phone–a task made even simpler with the Trouper's built-in Bluetooth support.
Fishman Loudbox Mini and Loudbox Mini Charge
If you want a serious ukulele amp that's great for practice and also works well in small to medium performance settings, you simply can't beat the Fishman Loudbox Mini.
Rather than packing the Loudbox Mini with loads of unnecessary features, Fishman has focused on one thing: tone. The Mini has an incredible presence and will have no trouble filling up a room. It's seriously hard to believe how awesome this little amp sounds until you hear it in person.
At 60 watts, the Loudbox Mini has plenty of juice and is more than sufficient for most casual venues. It's certainly on the higher end of the price spectrum compared to other uke amps reviewed in this article, but it's well worth the investment for players who are serious about performing and want an amp that makes them sound like a pro.
The Loudbox Mini Charge is a battery-powered, Bluetooth-enabled version of the regular Mini. Its rechargeable battery provides four hours of playtime, making it ideal for street performers, travelers, or folks who just don't want to mess with power cables.
The Mini Charge's Bluetooth functionality lets you play backing tracks of your smartphone, or you can simply use the amp as a great-sounding wireless speaker.
Fishman Loudbox Artist and Performer
I love the Loudbox Mini, so it's no surprise that I'm also a big fan of Fishman's more powerful Loudbox models: the Artist and Performer.
These amps are substantially more expensive, but they offer a lot more power (120 watts and 160 watts, respectively) and have additional instrument and mic inputs.
While these amps are overkill for most casual players, their power, ease of use, and portability make them a great option for working musicians.
Bose L1 Compact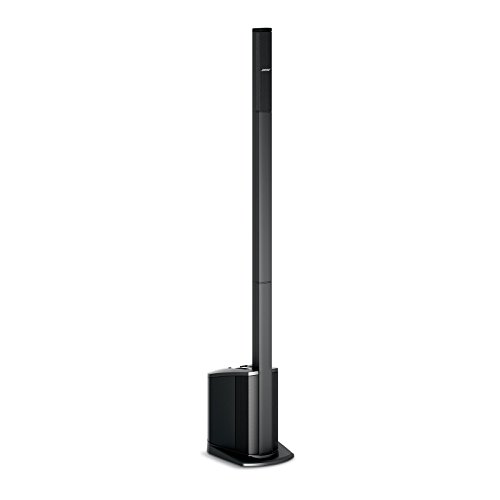 Bose L1 Compact with Carry Case
Bose Spatial Dispersion loudspeaker technology delivers sound evenly across the stage and throughout the audience even to the extreme sides
2 Tone Match channels with fixed presets for a handheld microphone and an acoustic guitar
Integrated bass speaker in power stand
2 setup positions: collapsed for smaller spaces or extended for larger ones. Durable, lightweight, interlocking components
Ideal for musical performances, mobile DJs, classrooms, business presentations and other events
When it comes to sound quality, simplicity, and style, the Bose L1 is tough to beat. I've heard this system being used by multiple performers over the years and can personally attest to how incredible it sounds.
The L1 is an elegant PA system that consists of a single vertical array of speakers and a simple mixing board with four inputs. It weighs less than 30 pounds and breaks down into two carrying bags that fit in your trunk. This makes setup and teardown quick and painless compared to many other PA systems.
In terms of sound, the L1 really has to be heard to be believed. It's amazing how the L1's tiny speaker tower can produce such a full, rich, and warm sound. In addition to offering great acoustic amplification, vocals are crisp and clear.
While the price tag certainly puts the L1 in a totally different category than the other products reviewed in this article, it's worth the money for folks seeking a great-sounding, hassle-free solution to ukulele amplification.
Other Resources